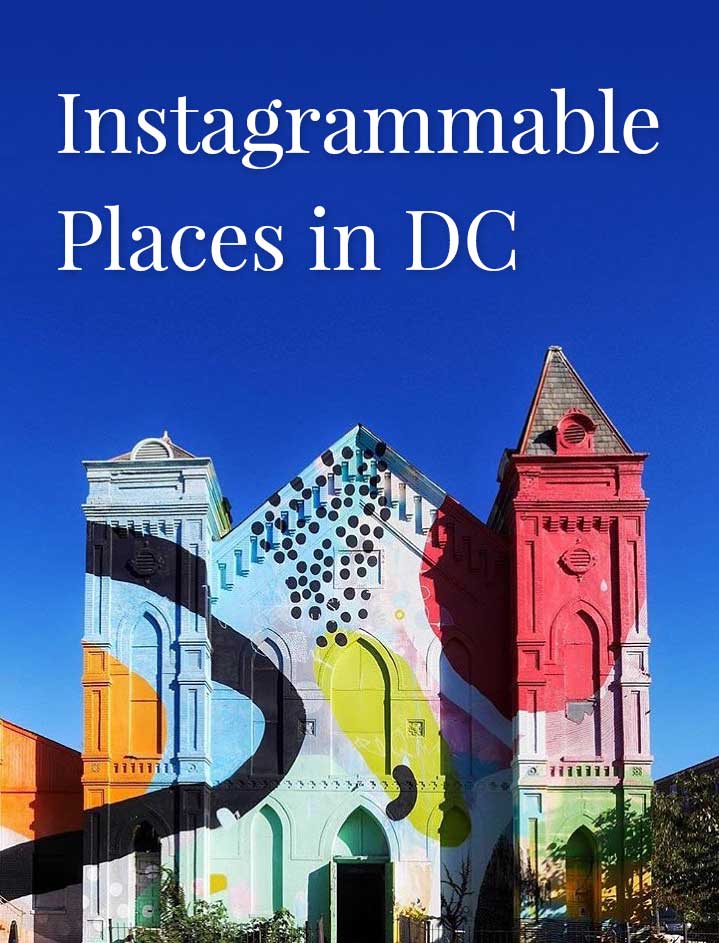 We all know how hard it can be to fill your Instagram feed with beautiful photos. 📷
After years of featuring photos on Instagram via IGDC we've found some of the best places to photograph in DC. From typical places like the Tidal Basin and Washington Monument to less travelled spots like Blind Whino and Blagden Alley there is something here for locals and travellers.
So grab your camera and hop on the metro; here are our favorite places to Instagram in Washington DC:
1. The Blind Whino
DC's most colorful church can easily turn heads with its incredible mural. In addition to the exterior Blind Whino also offers art shows inside which can be found on their website.
700 Delaware Ave SW, Washington, DC 20024
2. The National Arboretum
On a nice day a stop by the National Arboretum is a must. There are acres of trails and the Capitol Columns is the centerpiece to it all.
3501 New York Ave NE, Washington, DC 20002
3. Union Market
Union Market is full of unique shops and food stands but the outside is remarkable. Covered in murals that change periodically you're sure to find something to Instagram (plus you can grab an ice cream at Trickling Springs).
1309 5th St NE, Washington, DC 20002
4. US Capitol
The Capitol is hard to miss, in the heart of DC the United States Capitol looks great at anytime of day.
East Capitol St NE & First St SE, Washington, DC 20004
5. National Gallery of Art
There is much to explore in the National Gallery of Art. Some of the most notable things to see are the light tunnel in the basement and the giant blue Rooster on the roof of the East building.
6th & Constitution Ave NW, Washington, DC 20565
6. The Line Hotel
DC Instagrammers love stopping by the lobby of the Line Hotel with their unique stairway with mirror in the corner.
1770 Euclid St NW, Washington, DC 20009
7. National Portrait Gallery
Right next to the Capital One Arena in Chinatown is the National Portrait Gallery. Full of impressive hallways and courtyards the Portrait Gallery has plenty of unique art exhibits to photograph.
8th St NW & F St NW, Washington, DC 20001
8. The Watermelon House
This colorful house is hard to miss with its massive watermelon mural on the side.
1112 Q St NW, Washington, DC 20009
9. Love Mural in Blagden Alley
Blagden Alley is loaded with interesting murals, make sure to stop by La Colombe which is one of DC's best coffee shops.
Blagden Alley, Washington, DC 20001
https://www.instagram.com/p/BfLVzfYgJmC/
10. Lincoln Memorial and Reflecting Pool
The National Mall is a must stop especially the Reflecting Pool and Lincoln Memorial. Open all day and night the Reflecting Pool is a awe-inspiring spot everyone should visit at least once.
2 Lincoln Memorial Cir NW, Washington, DC 20024
11. CityCenterDC
The main alley of CityCenterDC is always decorated for the season, from winter to fall there is always something to photograph at City Center.
825 10th St NW, Washington, DC 20001
12. The Bridge at Yards Park
The Yards park has great restaurants but also an impressive bridge that is perfect for portraits.
355 Water St SE, Washington, DC 20003
13. Greenworks in Georgetown
It's hard to miss this giant pink building in Georgetown, Greenworks is also a beautiful flower shop on the inside.
3428 O St NW, Washington, DC 20007
14. Chinatown Friendship Arch
The massive Friendship Arch in Chinatown is a staggering archway that is impressive day or night.
H St NW & 7th Street NW, Washington, DC 20001
15. Union Station
The grand hall in Union Station has beautifully painted gold ceilings.
For more Instagram inspiration in Washington DC be sure to check out the #IGDC feed and to tag your photos.
Let us know your favorite places to Instagram in the comments!