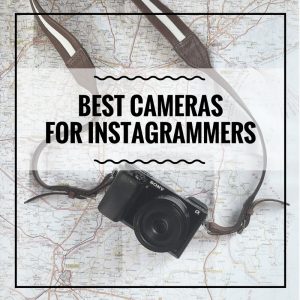 Using your smartphone can be great for taking photos and posting to Instagram. But we know a lot of users will outgrow their smartphone and want a mirrorless or DSLR camera to step up their IG game. When you get a camera with interchangeable lenses it'll also allow you to change aperture, shutter speed, iso, and plenty of other settings to perfect your photos.
Once you've made the decision to upgrade your camera it can be hard to choose the perfect camera. Choosing a high quality camera can last you years, we've compiled the best camera for Instagrammers.
Things like weight, price, and functionality can vary between cameras so be sure to review all of our options. Paying a few extra hundred dollars now can increase the longevity of your camera in the future.
mirrorless cameras
and
DSLRs
.
Mirrorless: Smaller, lightweight, more modern options, and accurate viewfinder previews.
DSLR: Larger, heavier, better battery life, and better autofocus systems.
Whether you're posting on Instagram, printing photos, or need a camera for social media all of these cameras are great for capturing the moments in your life.
Here is our list of the best cameras for Instagram:
Start With Your Smartphone Camera
Of course some of the best smartphone cameras include the iPhone XS, Google Pixel 2, and Samsung S9. These are all great choices just in case you're looking to upgrade your mobile photography.
Plus using your smartphone camera is of course the easiest way to take photos and upload to Instagram. It is possible to upload to instagram from a PC or Mac but we love using the app to post. Most of all you don't want to miss out posting stories and using direct messages which is best done by using the native app.
If you want to level up your mobile photography the Moment lenses are incredible. It's a fantastic way to get a wide angle or telephoto lens on your phone. It's also a way to make your Instagram stories more fun by showing more to your audience.
Some apps we recommend to edit your photos include Snapseed, Lightroom Mobile, and VSCO. Additionally the tools and filters built into Instagram are very useful at this point. If you're looking to improve your photography starting with editing is a good idea since the skill will translate into any camera you're using.
Sony a6000 – Best Entry Level Mirrorless Camera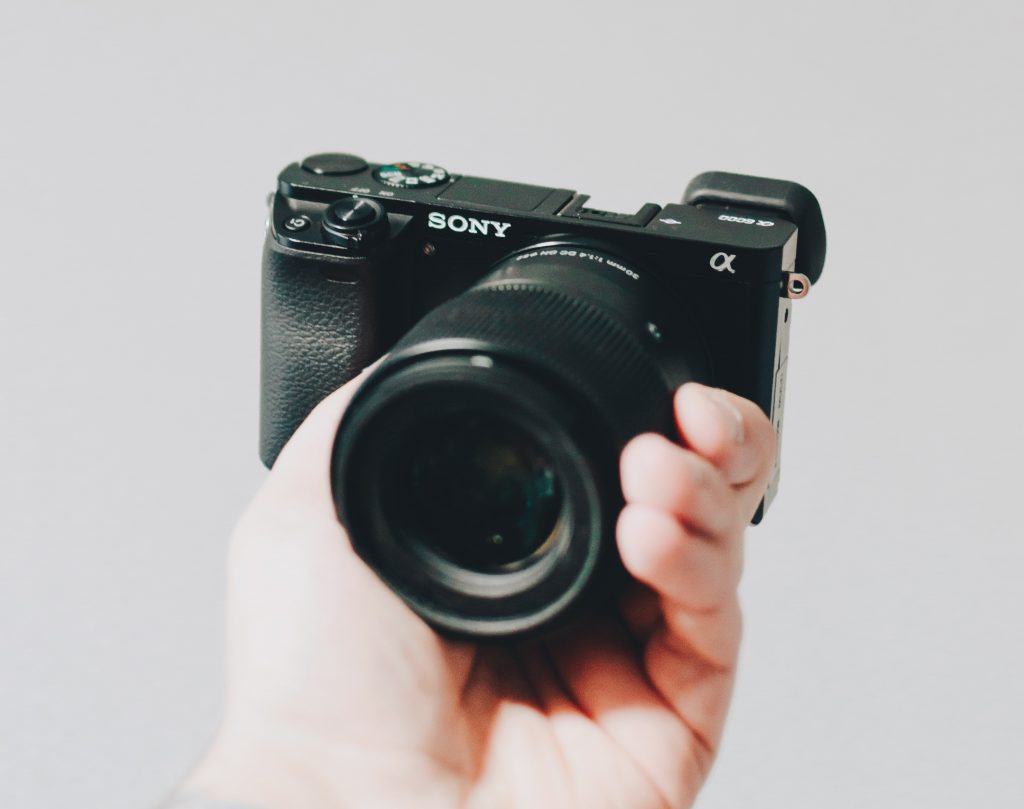 Sony's mirrorless cameras have taken the market by storm and now are extremely popular. Sony cameras are known for their small form factor and great image quality. People love the a6000's fast 11 frames per second RAW shooting and great auto focus. The Sony a6000 also works great in live view for an easier transition from smartphone shooting.
The a6000 hits a real sweet spot between price, image quality, and portability. It weighs about the same as a bottle of water yet delivers pro-quality photos for easily under $1k.
@thisisjamesj
Its lightweight and small form factor makes it great to throw into a bag so you always have it ready at all times, perfect for a travel photographer!
The a6000 includes a tilting LCD screen on the back as well. The tilting screen is perfect for taking photos high up or low to the ground without laying on the ground. The screen only tilts and doesn't flip to the front which would have been a nice option for selfies and vlogging.
Wifi is also included in the a6000 which makes it super simple to grab images from the camera using the Sony PlayMemories App. Wifi is a great feature for beginners who are familiar with editing and posting form their phone. This is why we recommend cameras with wifi since it can be cumbersome to use a computer for uploading. Additionally it has NFC built in for transfering photos with a tap to Android phones.
The battery life for the a6000 is about ~310 photos. This is a downside of most mirrorless cameras but the batteries are tiny so you can pack a few in your bag. So if you plan on buying this camera we recommend picking up a few extra batteries.
Sale
$$$ Upgrade If you have a larger budget you can get a Sony a6300 or the higher end a6500. The a6500 offers newer features like in-camera image stabilization and a touchscreen which can be useful in low light situations and for video.
Once mastering these cameras most Sony users upgrade to the Sony a7R II or the newly released Sony a7 III.
When I decided to purchase a "big-girl" camera I went to the Sony A7RII. I have never been disappointed either. The A7RII has an incredibly powerful 42mp sensor so shooting in RAW brings out every colorful detail of your picture. The G Master lenses are expensive, but worth the investment. My favorite all around city lens is the GM 16-35mm. It is my "go to" lens. The high ISO is crazy good (I've taken at 12,800 ISO) and thanks to its amazing pixel count, what noise there might be, is hidden. Its viewfinder is great, and the camera itself is comfortable to hold. It's sturdy and well made. I have never regretted my choice.
@dccitygirl
Canon T6i – Best Entry Level DSLR Camera
People love Canon camera because of their massive lens selection and fantastic image quality & color science. The T6i is a great introduction to the Canon ecosystem.
With a flippable screen and touch screen it'll give you many features you're used to on a smartphone. One downside is that focusing in videos and live view can be slow. So you'll most likely be using the optical viewfinder to enjoy its fast focus system.
If you're using the viewfinder (which is a benefit of DSLRs) you'll get about ~450 photo battery life. If you use live view your battery life will be crushes to ~200 photos though.
On the downside the T6i doesn't include some of the newer Canon features like dual pixel autofocus which can be found in the Canon 80D and M50. Dual pixel autofocus add incredible autofocus when using live view, the T7i offers dual pixel autofocus. We recommend picking up a Canon camera with dual pixel autofocus if you plan on filming a lot of videos since videos can only be shot in live view.
With the T6i's built in wifi you'll enjoy editing and uploading to Instagram on the go. You can grab your photos from any Canon camera using the Canon Camera Connect app which will allow you to download images and take photos from a distance.
Sale
$$$ Upgrade Once mastering Canon cropped sensor cameras an awesome full frame camera upgrade is the Canon 6D Mark II or Canon 5D Mark IV. If you're looking for a high end mirrorless camera from Canon they also make the Canon EOS R which has most of the premium features as a 5D Mark IV but in a smaller body.
Sale
Fuji X-M1 – Mirrorless Alternative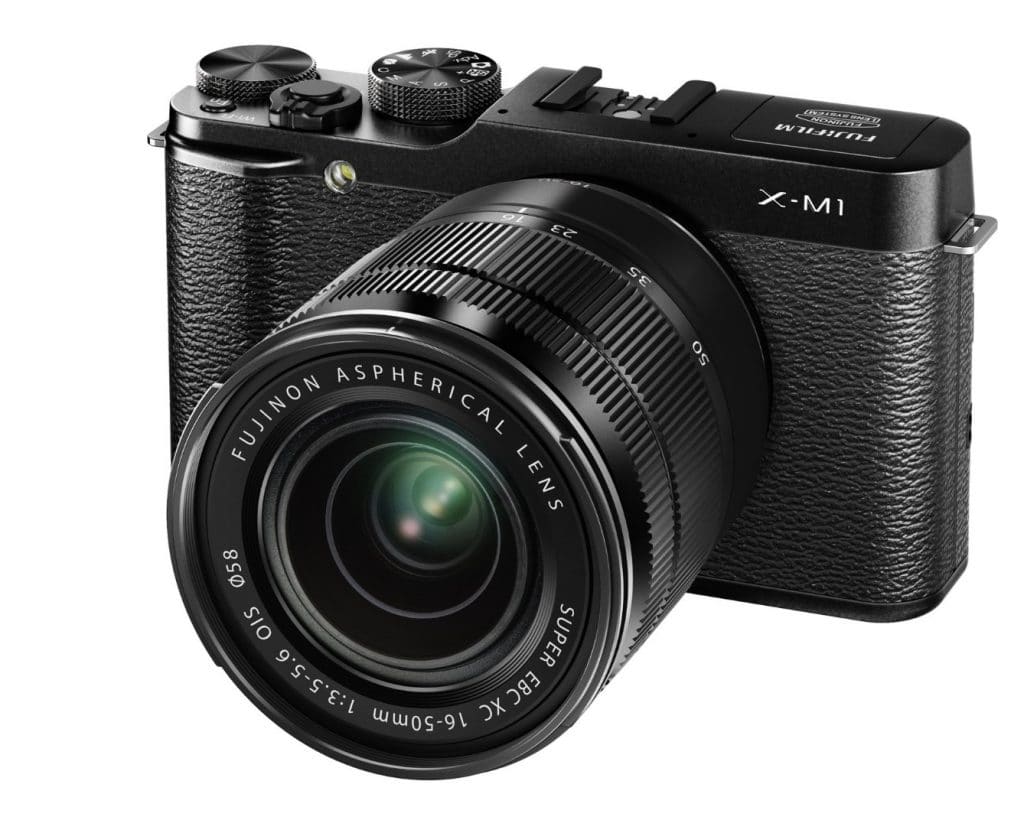 Alternatively you can pick up the Fuji X-M1 if you want something a bit different. Some stand out features include Wifi and larger sensor. For its price it's a great way to learn the basics of photography without breaking the bank.
The X-M1 also includes a tiltable screen, built-in wifi, and a large sensor in a very small body. Plus it's hard to resist Fujifilm's vintage style body.
Sale
$$$ Upgrade If you have a higher budget the Fujifilm X-T100 with its tilt/flip screen, touchscreen, and 24 megapixel sensor is also a great alternative to the X-M1. Additionally the Fujifilm X-T20 is also a great choice with more modern features.
Sale
Fujifilm X-T100 Mirrorless Digital Camera w/XC15-45mmF3.5-5.6 OIS PZ Lens - Dark Silver
24.2 Megapixel APS-C size sensor with Color Reproduction technology refined over 80 years. Artistic expression are made easy with the x-t100 with film Simulation and advanced filter modes
Featuring super-fast autofocus and a variety of automatic functions, including an evolved SR+ auto mode which is capable of subject recognition together with conventional scene recognition
Choosing Your First Lens
If you're starting out, the kit lenses (lenses bundled with the camera) are typically good quality. They usually offer a great range of focal length for all types of photography.
After learning how the camera works using the kit lens we highly recommend upgrading to a 50mm prime (great for portraits!). You can usually pick one up for around $100 and most camera companies make an affordable 50mm for their cameras. Prime lenses will give you lower f stops so you have greater control of the depth of field in your photos. Shallow depth of field is often used in artsy photos especially when taking portraits.
On a side note, without adaptors, lenses aren't interchangeable between companies.  This is something to consider before you get heavily invested into a camera brand. Additionally if you are into taking architectural photos you'll probably want to get a wide angle lens which can open your creative opportunities.
Let us know your thoughts and what you shoot on in the comments!