If you follow me on Instagram, you know I love visiting Frederick, Maryland.
Just an hour outside of DC, Frederick, Maryland is a historic city offering great eats, shopping, and beautiful views. Located where Catoctin Mountain meets the Piedmont region, Frederick has long been a crossroads, predating even European influence. Native American tribes are said to have followed the Monocacy River south to the Potomac River and eventually out to the Chesapeake Bay. In 1745, Daniel Dulaney laid out "Frederick Town", and shortly after All Saints Church, an Episcopal Church located in the center of town, was founded. As Frederick grew, it became a center for religious pluralism, best exemplified by Church Street, and the towns skyline, which consists of numerous church spires. The towns' clustered spires were immortalized in the poem 'Barbara Fritchie' by John Greenleaf Whittier, which tells the story of Barbara Fritchie, a woman in the town of Frederick who waved the Union flag at occupying Confederate soldiers. The second stanza reads line "The clustered spires of Frederick stand/ Green-walled by the hills of Maryland". With history and scenic beauty abound, there's so much to explore in Frederick, MD.
But enough about history… let's talk about the 7 best places to catch sunrise in Frederick, Maryland.
1. Baker Park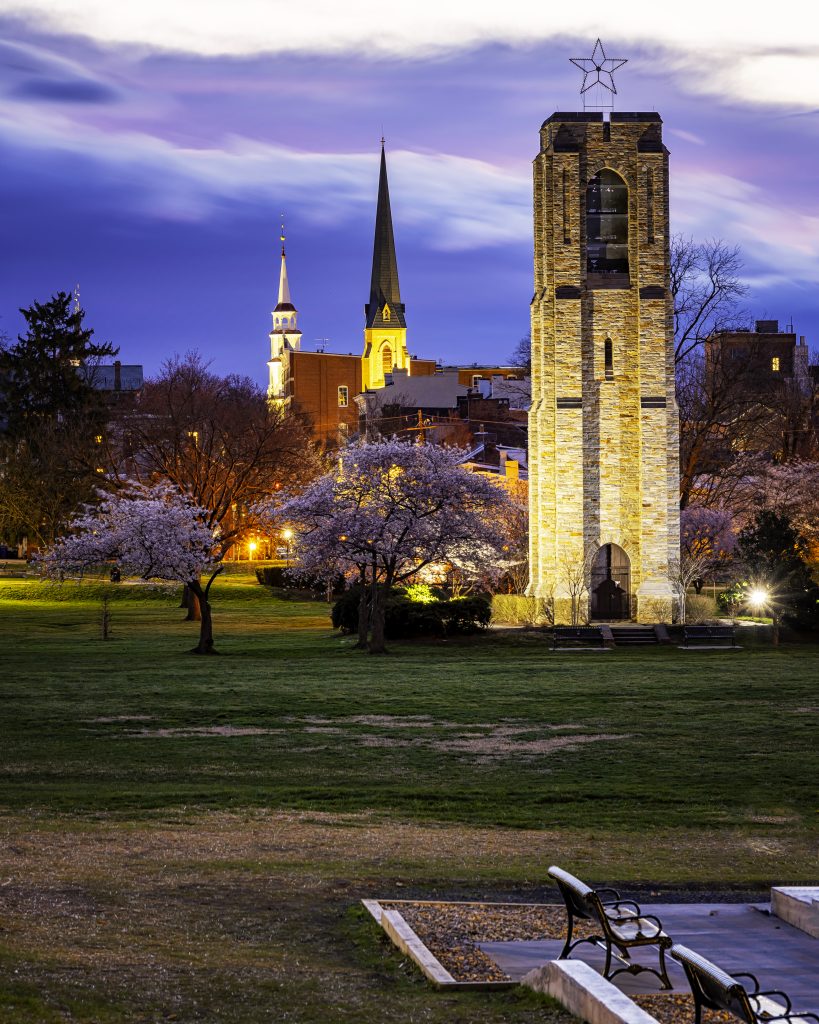 Located in the heart of Downtown Frederick, Baker Park offers 58 acres of greenspace complete with a creek, running/ biking paths and some of the best views of the city. You can park along W 2nd Ave and walk to the bridge on College Ave to catch beautiful sunrise shots over the park and the Joseph D. Baker Tower and Carillon.
---
2. Culler Lake and Carroll Creek Covered Bridge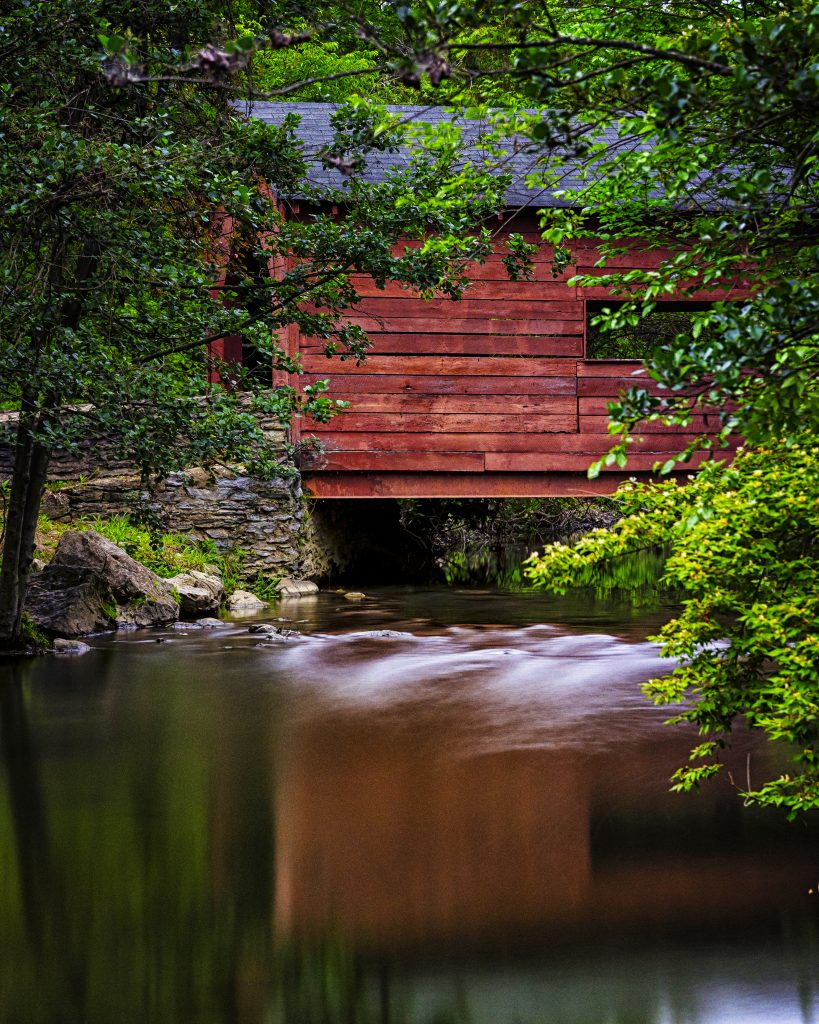 Just north of Baker Park is Culler Lake and the Carroll Creek Covered Bridge. Parking along W 2nd St or Carroll Pkwy offer easy access to these iconic landmarks.
Culler Lake and Carroll Creek Covered Bridge on Google Maps
---
3. Church Street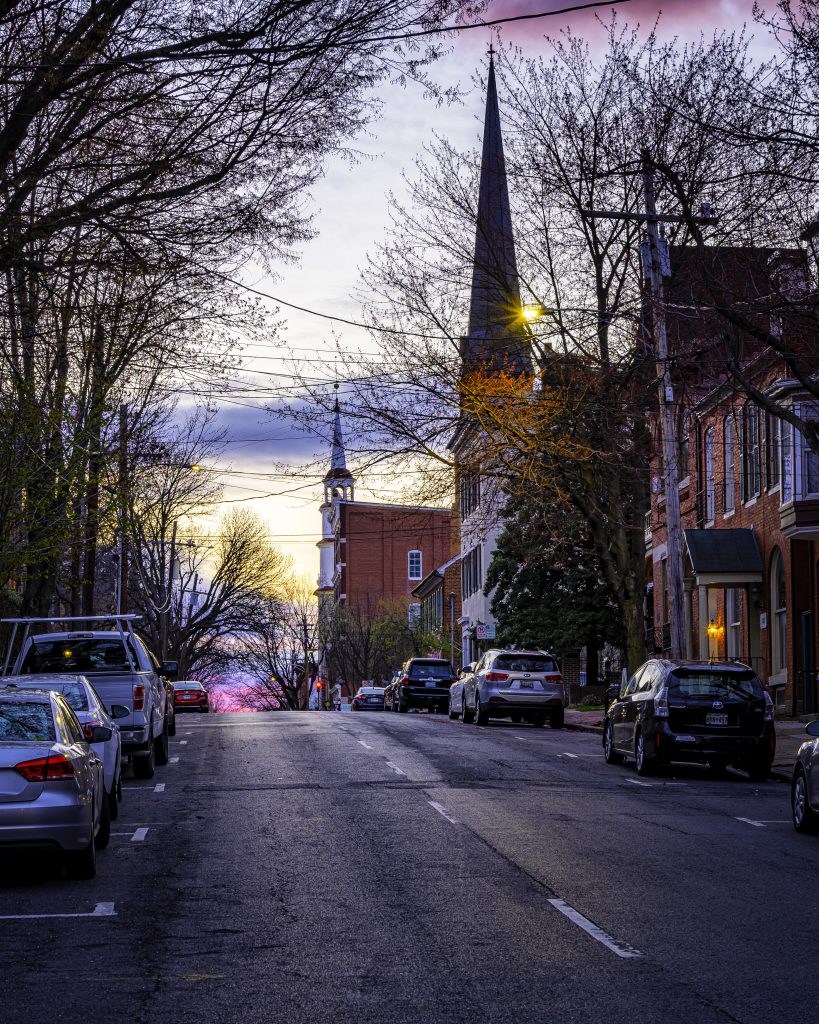 Walking up and down Church St is truly special as you walk next to some of the oldest churches in all of Maryland. For architecture photography this spot is hard to beat.
---
4. S. Market Street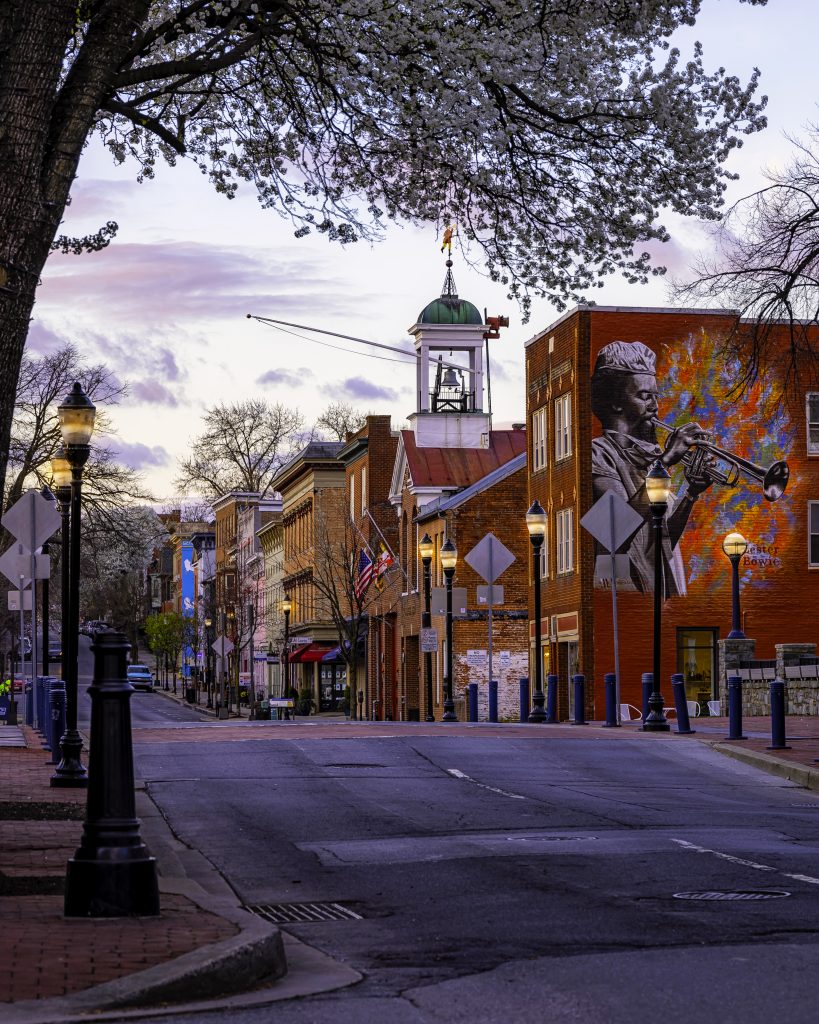 Park along S. Market St to catch scenic views of Carroll Creek and the mural of jazz great and Frederick native Lester Bowie. Just past the mural is United Steam Fire Engine Company 3. Established in 1845, this firehouse has a historic fireman windmill that makes for a great detail shot.
S. Market Street on Google Maps
---
5. Carroll Creek Linear Park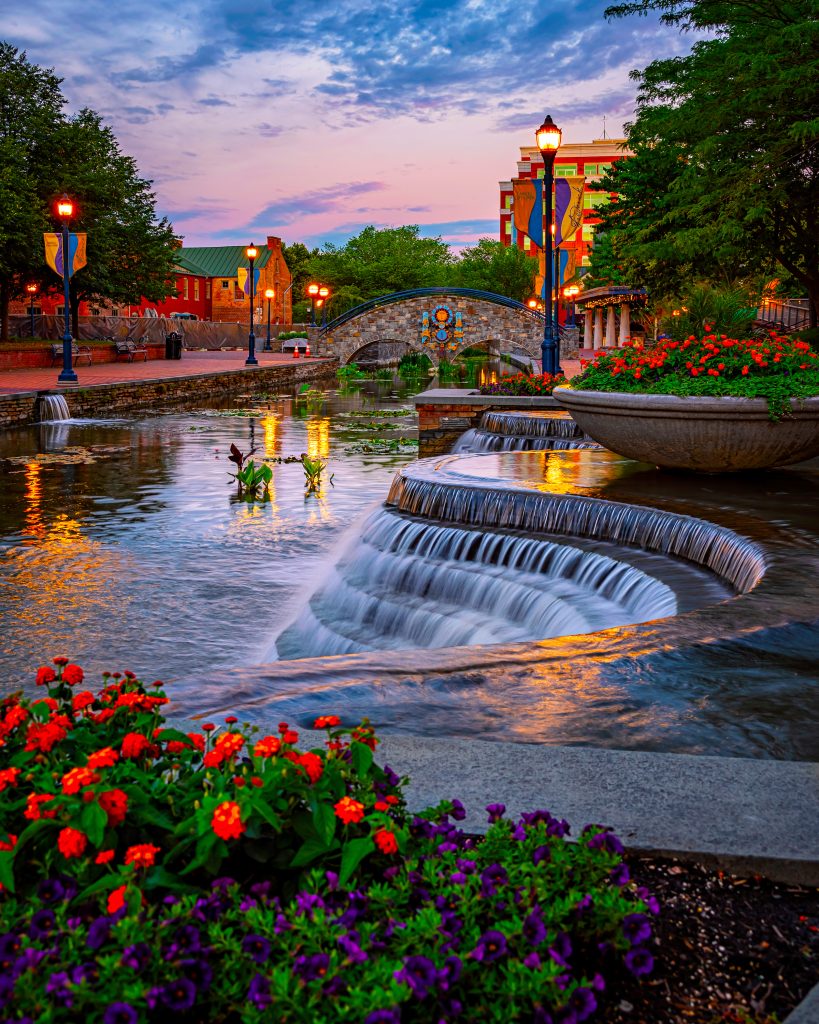 Built as part of a floodplain following a devastating flood in 1976, this seemingly quiet creek has 4 massive pipes running under it, each about the size of a bus. The aqueduct begins in Baker Park, and the pipes all travel under Carroll Creek Linear Park to divert water away from the town should the creek flood. Spanning more than a mile, the creek offers walking paths, restaurants and beautiful sunrise views. From November till March be sure to catch the boats as part of the Sailing Through the Winter Solstice charity event.
Carroll Creek Linear Park on Google Maps
---
6. Frederick Bike Racks in ASL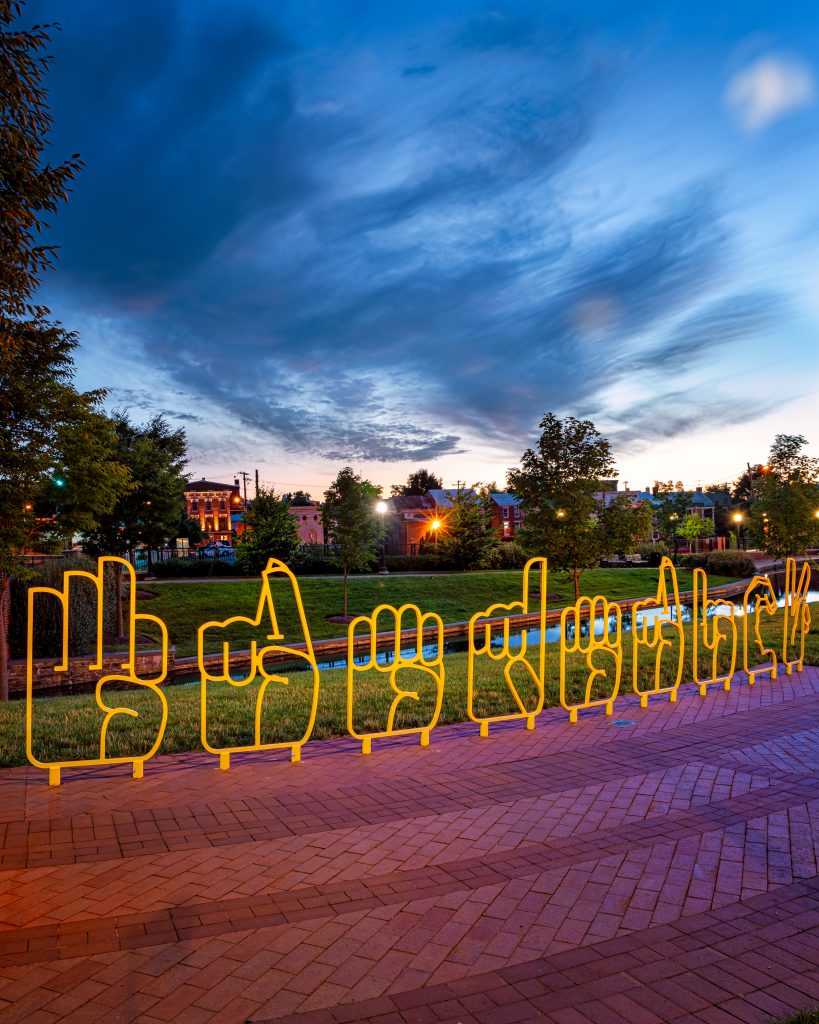 Located next to the Frederick Transit Center along East St is the Frederick Bike Racks in ASL. The project was created as part of the "Pitchcraft" competition, run by the Downtown Frederick Partnership. The competition allows people to pitch their ideas for what can better connect the people and places in the community of Frederick. The inaugural winners, Chanel Bonheyo and Tiffany Farias, pitched the bike rack idea in 2019, and won. Today, this creative idea offers one of the coolest sunrise spots in the city.
Frederick Bike Racks in ASL on Google Maps
---
7. Clustered Spires Cemetery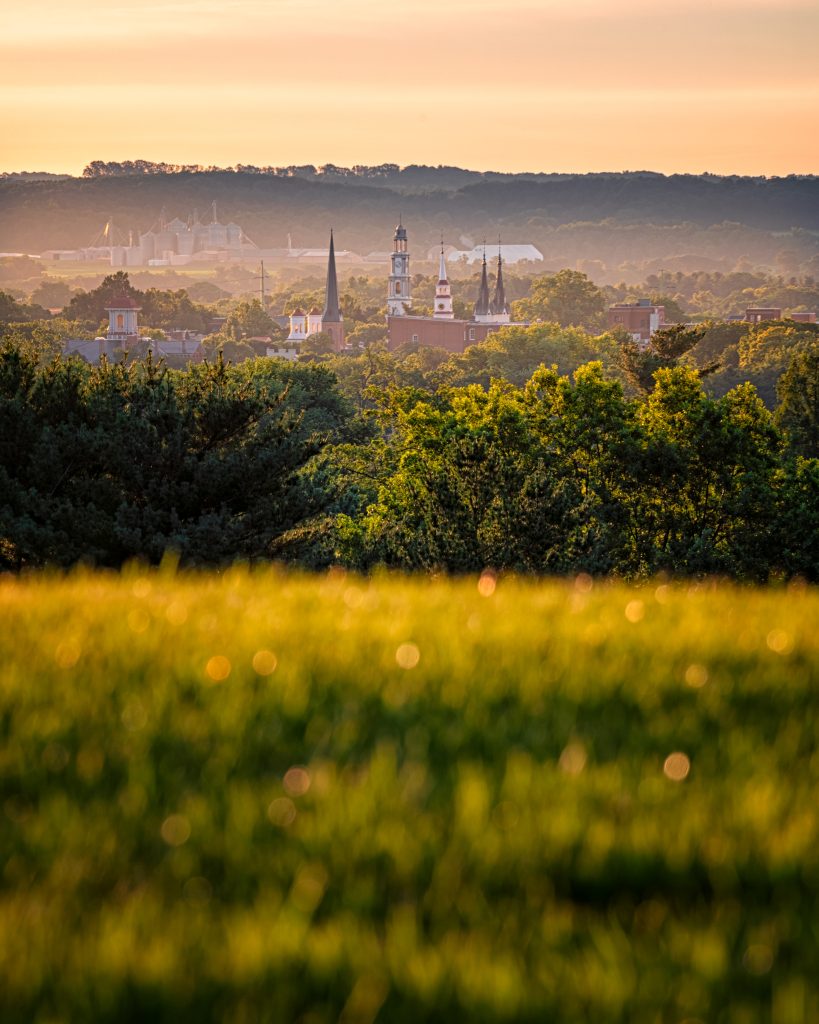 After first seeing a shot of the Clustered Spires of Frederick against the backdrop of the mountains in the Ec'clectibles shop on W. Patrick Street, I knew I had to figure out how to get this photo. It took a lot of trial and error, but Clustered Spires Cemetery on Linden Ave, just outside Downtown Frederick offers the best views of the famed Clustered Spires. You'll need a long lens (at least 200 mm, but 300-500mm is better), but the reward for trucking a glorified telescope out here is one of the coolest views of the city you can get.
Clustered Spires Cemetery on Google Maps
---
Thanks for reading my list of the best places to watch sunrise in Frederick, MD. Now set your alarm (Frederick MD Sunrise Times) and take some stunning photos of Frederick.
New to Photography?
Read: Sunrise Photography Settings
If you have any questions let me know in the comments below!