The DMV is full of magic in December and we look forward to seeing how you capture the holidays every year. This year, we decided to create a guide of all the sights that will make any photographer happy.
From stunning Christmas lights to events for kids we've covered all types of events in the DC area to fill your holiday todo list.
Here is IGDC's list of the best things to do in DC for the Holidays:
1. Enchant DC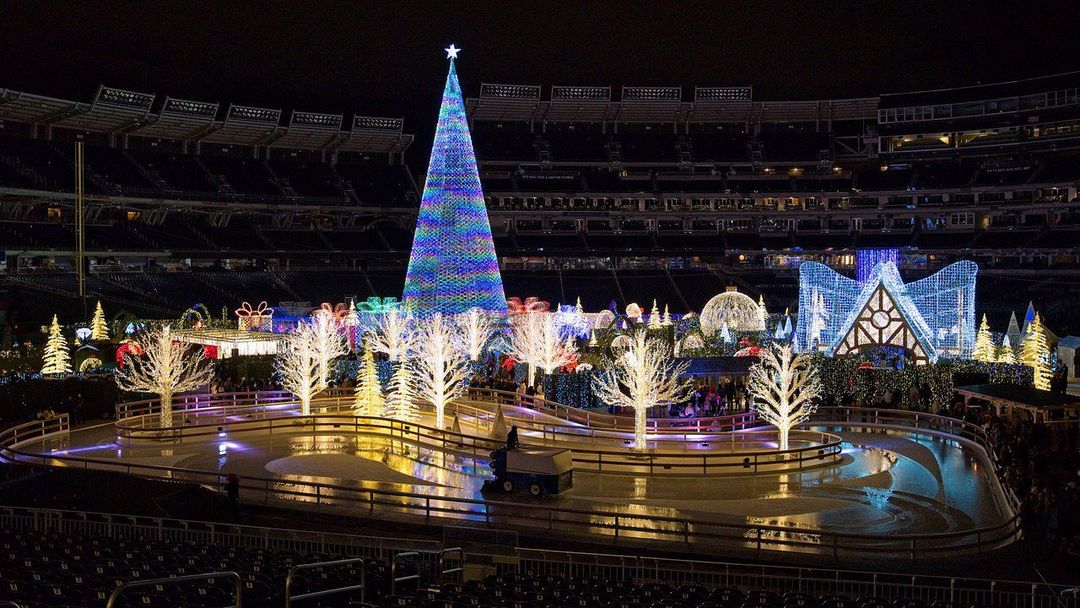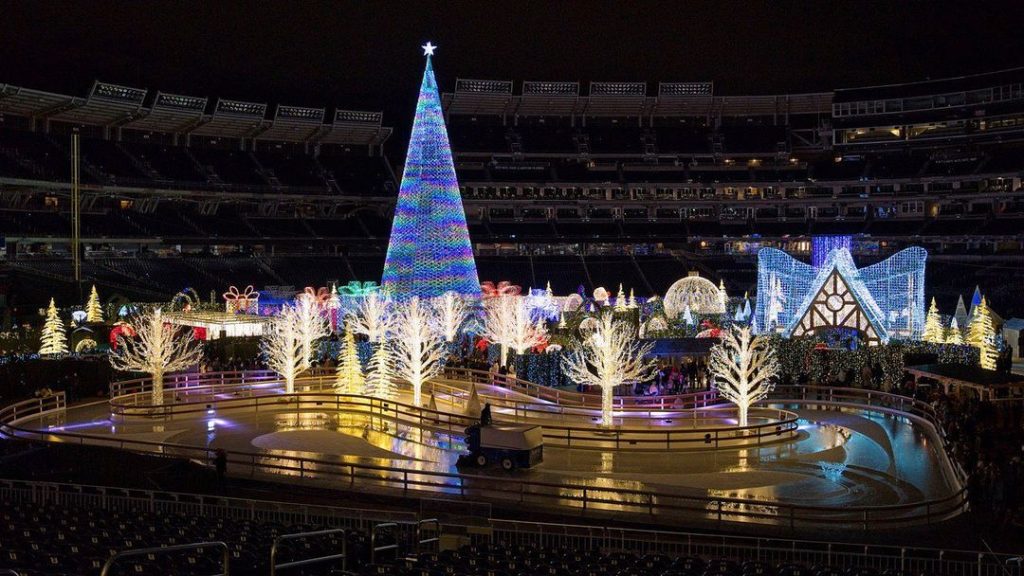 Want to surround yourself in lights? How about inside a baseball stadium? Then Enchant DC will have your eyes twinkling and your lens overloading on bokeh. There's a light maze, ice skating, Santa and more. Adult tickets from $35 and kids under 2 are admitted free. Enchant DC is located inside Nationals Park at the Yards.
2. Union Station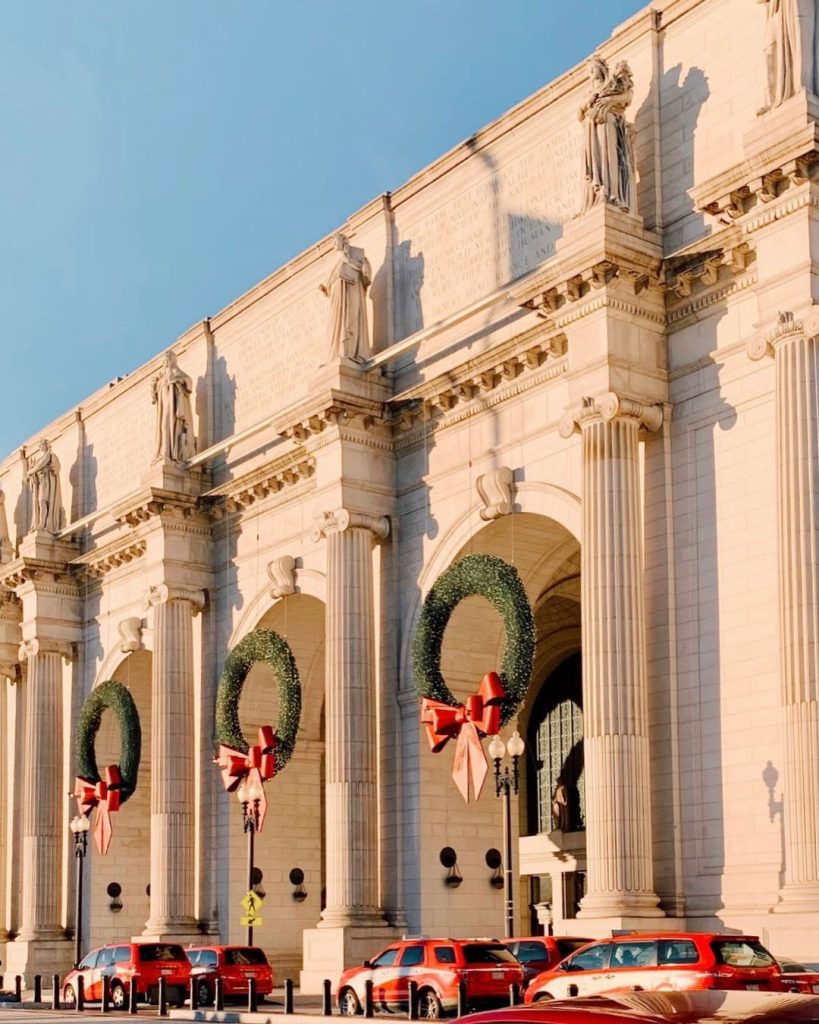 Union Station offers so many holiday delights. Outside are the iconic wreaths but inside you can visit the Norwegian Christmas Tree, a 22+ year tradition with the Norwegian Embassy. And of course there's a holiday train display!
3. Capital Christmas Tree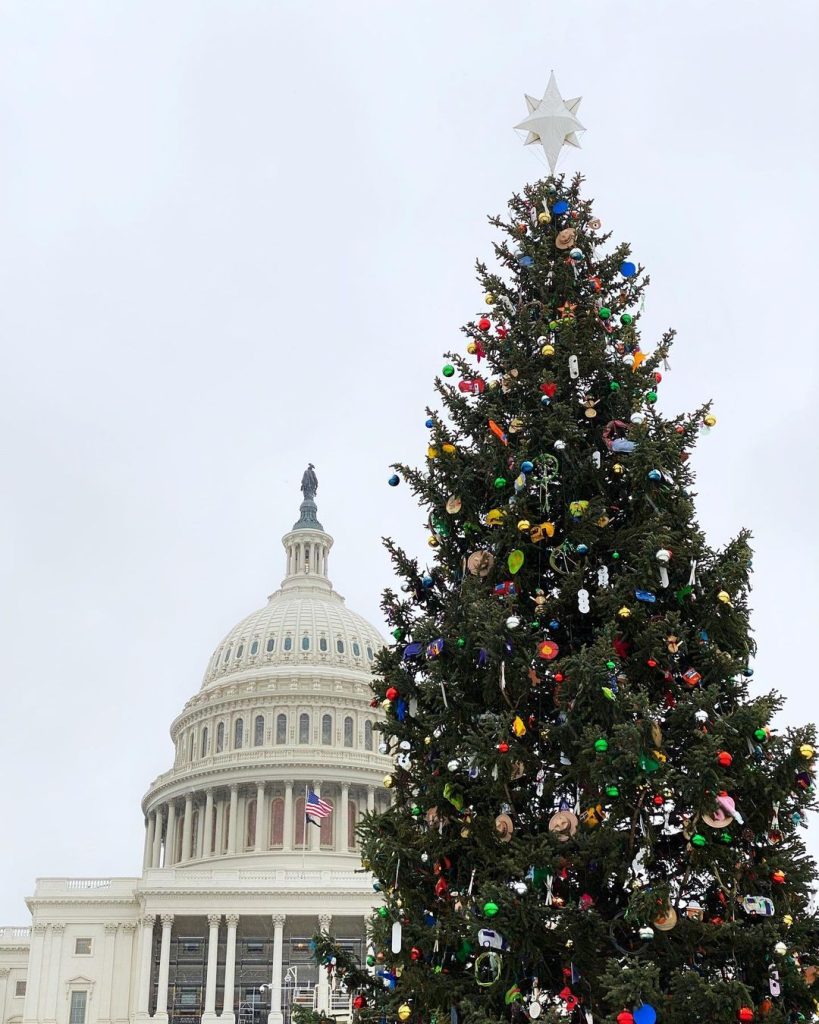 Each year, "The People's Tree" is chosen from a different national forest and places in front of the US Capitol. Once selected, residents from the respective state then create decorations celebrating our national forests and the great outdoors. The Capitol tree has become a beloved tradition for DC residents.
4. National Menorah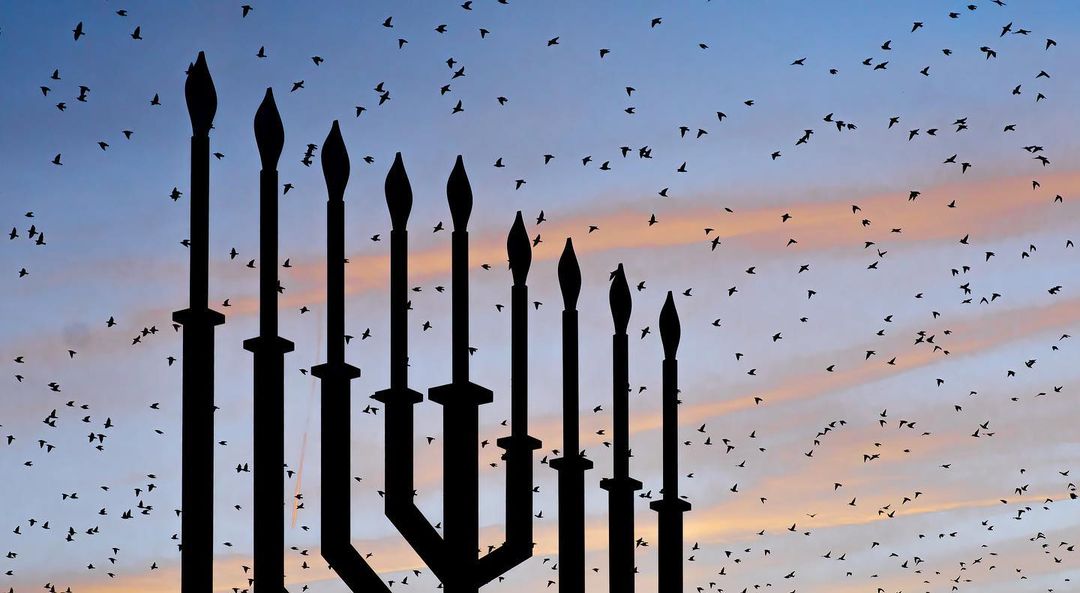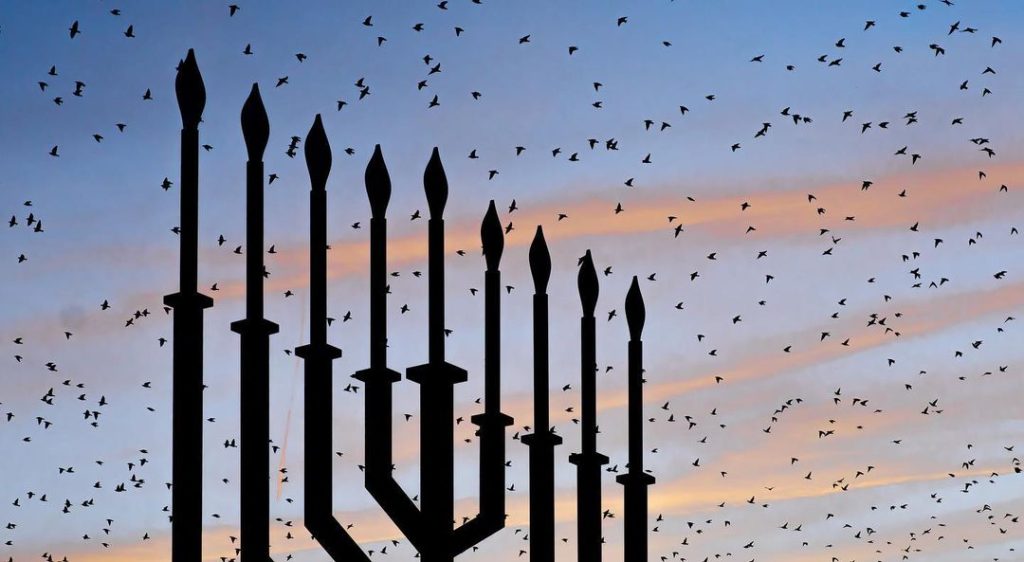 Located on the Ellipse, steps away from the National Christmas Tree, the National Menorah stands 30 feet tall and enjoys stunning backdrops like the Washington Monument and the White House.
5. Willard Hotel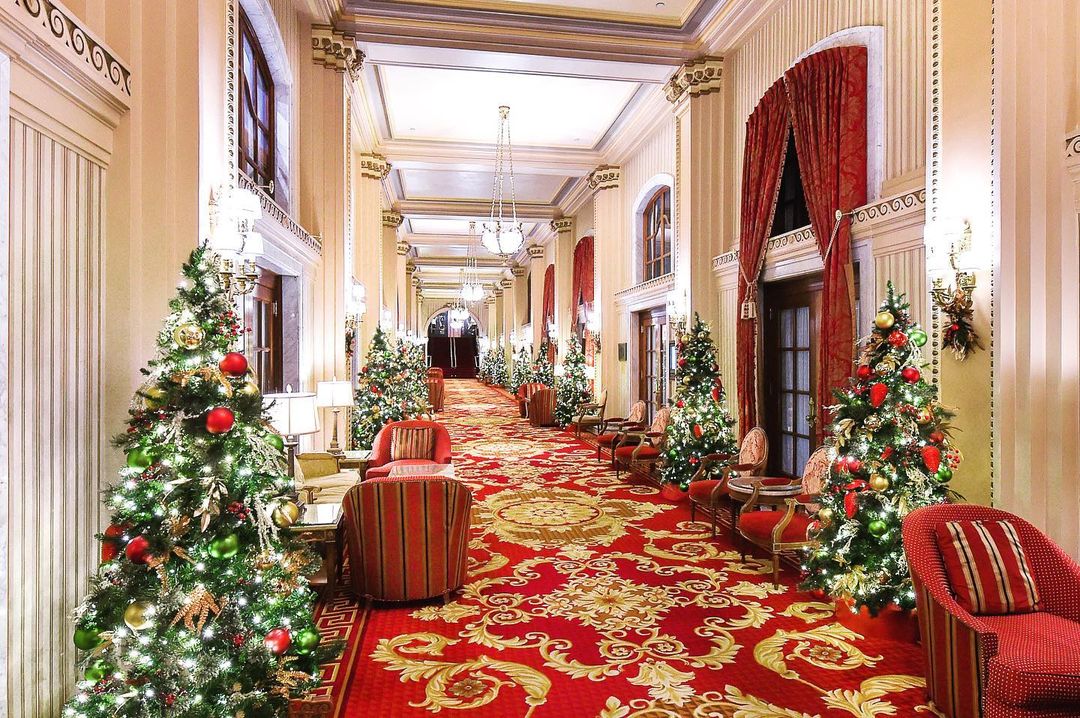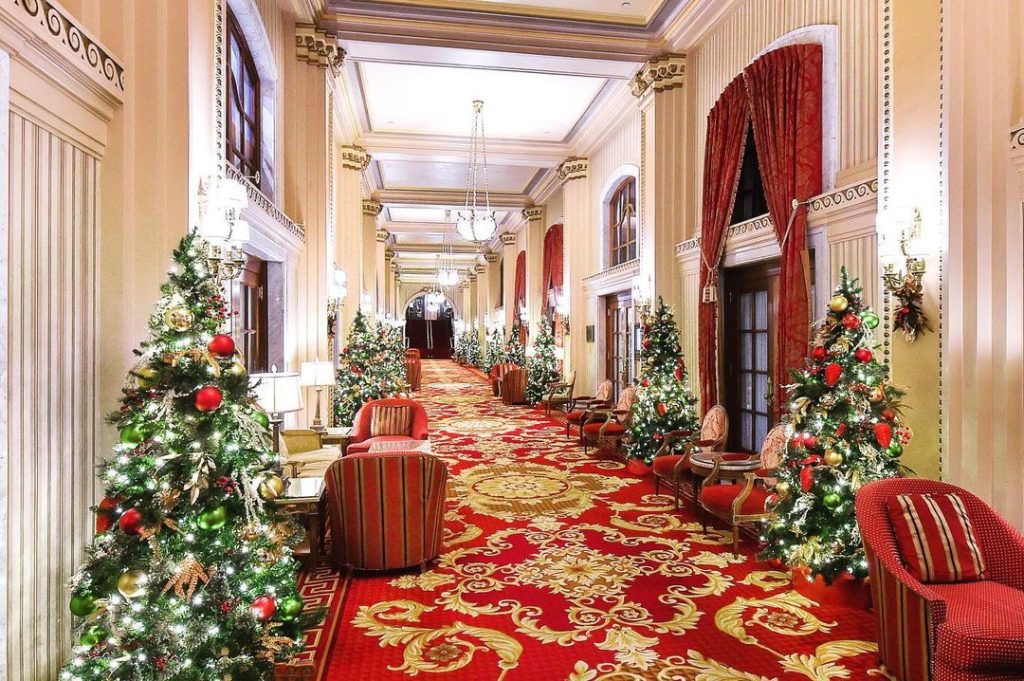 The historic Willard Hotel features dozens of Christmas trees with decor that matches the already-opulent interior and you may be lucky to catch local chorus from around the city singing in the lobby!
6. Canada Embassy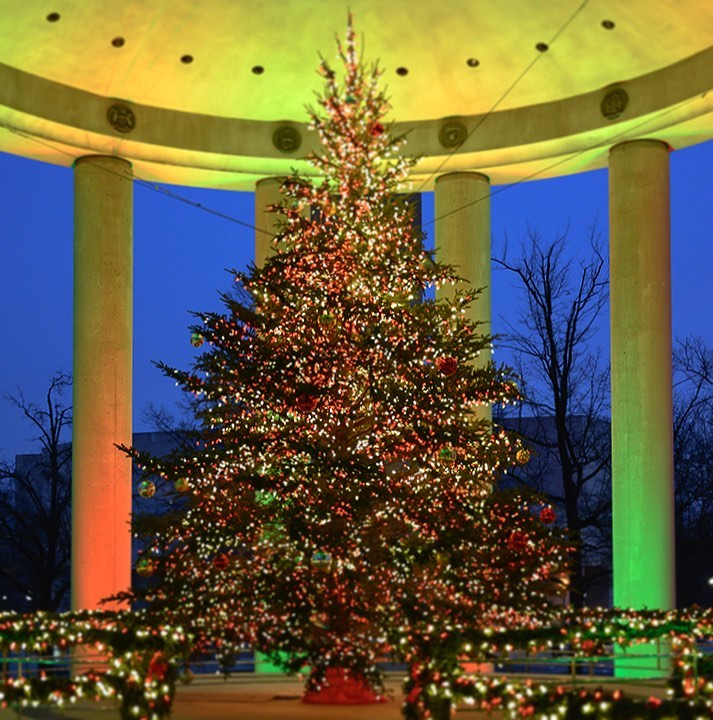 Christmas Tree display inside rotunda at Canadian Embassy fits in well with the rotunda as a backdrop which perfectly frames it and gives it a timeless classical look. The added lights on the pillars are also a nice touch.
7. Georgetown Waterfront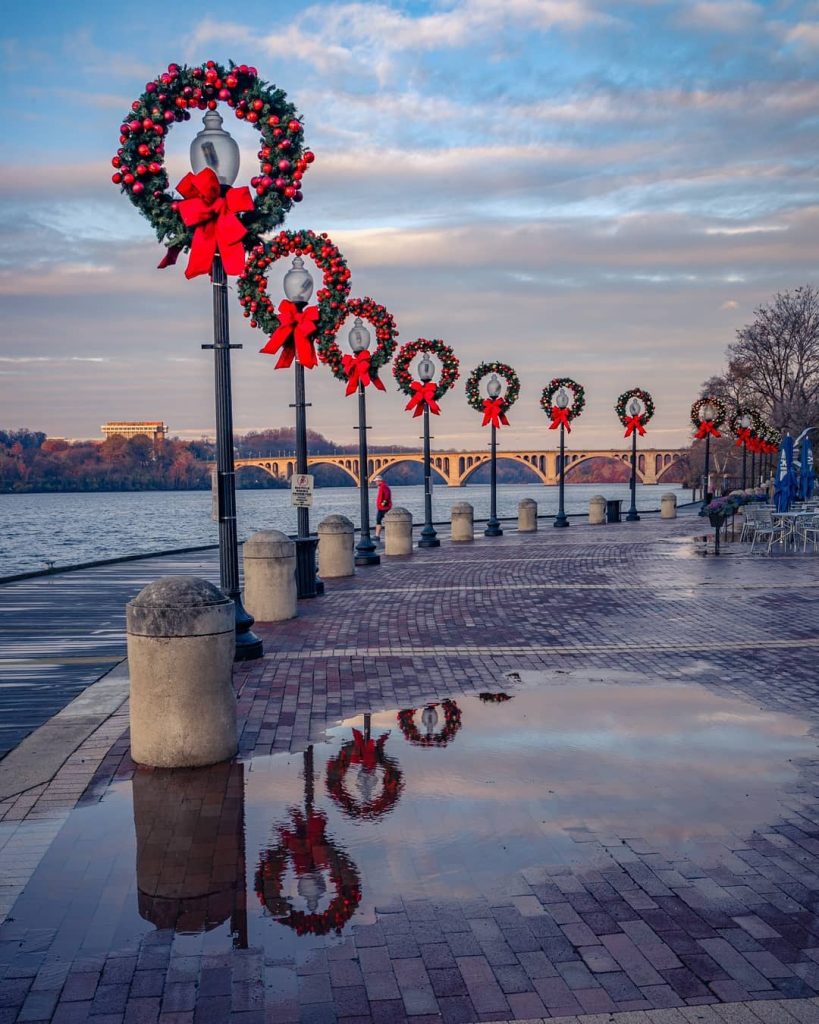 Holiday wreaths on every lamp post and lights along rooftops makes the Georgetown Waterfront Park an enchanting walk along the promenade.
8. ZooLights at the National Zoo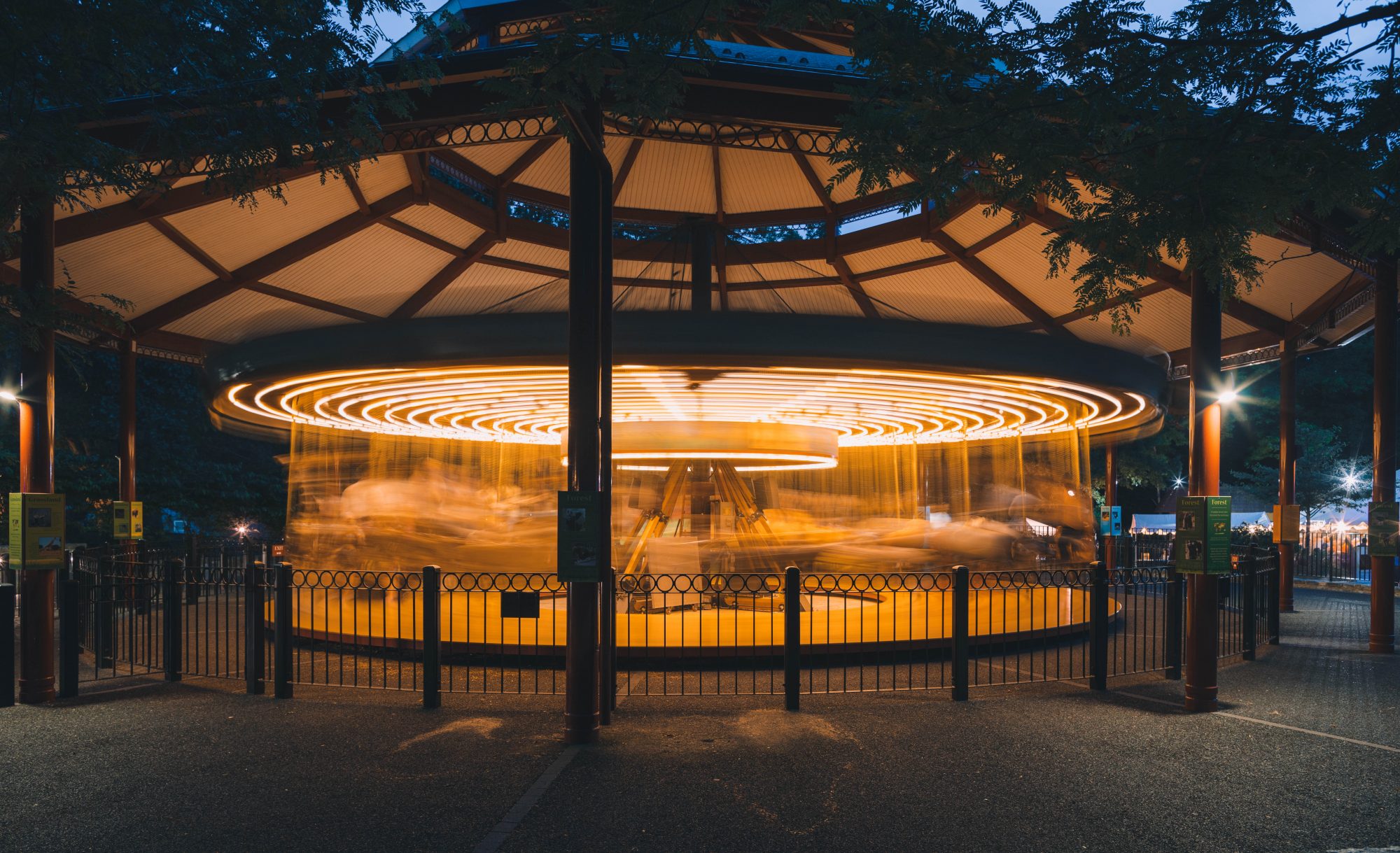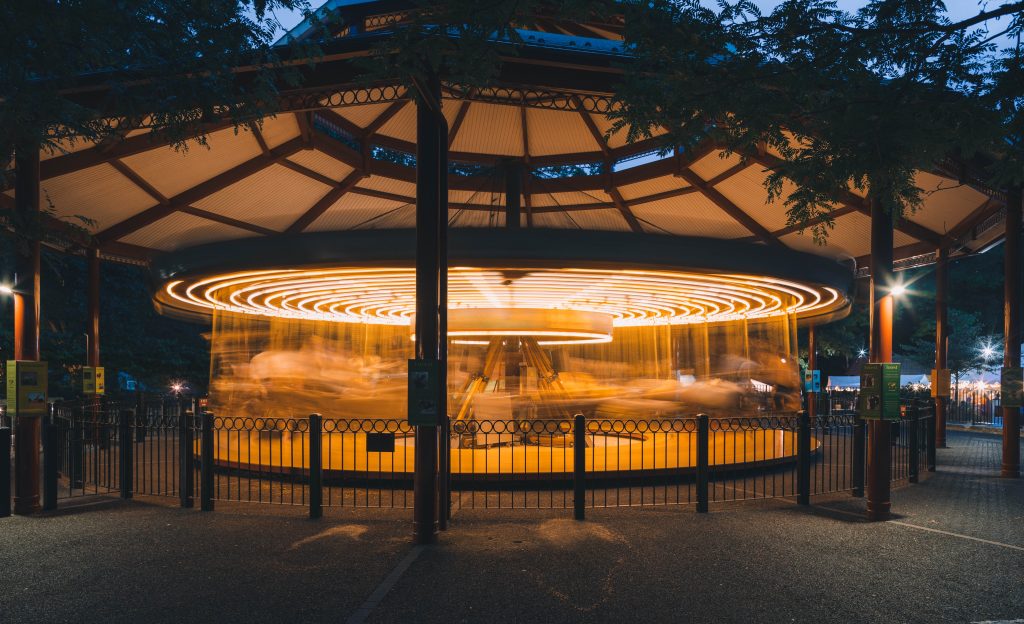 One of the classic family-friendly DC traditions for the holiday's is ZooLights at Smithsonian's National Zoo. There is plenty to enjoy at ZooLights including LED lights, dozens of animal lanterns, live music, and much more.
9. Filomena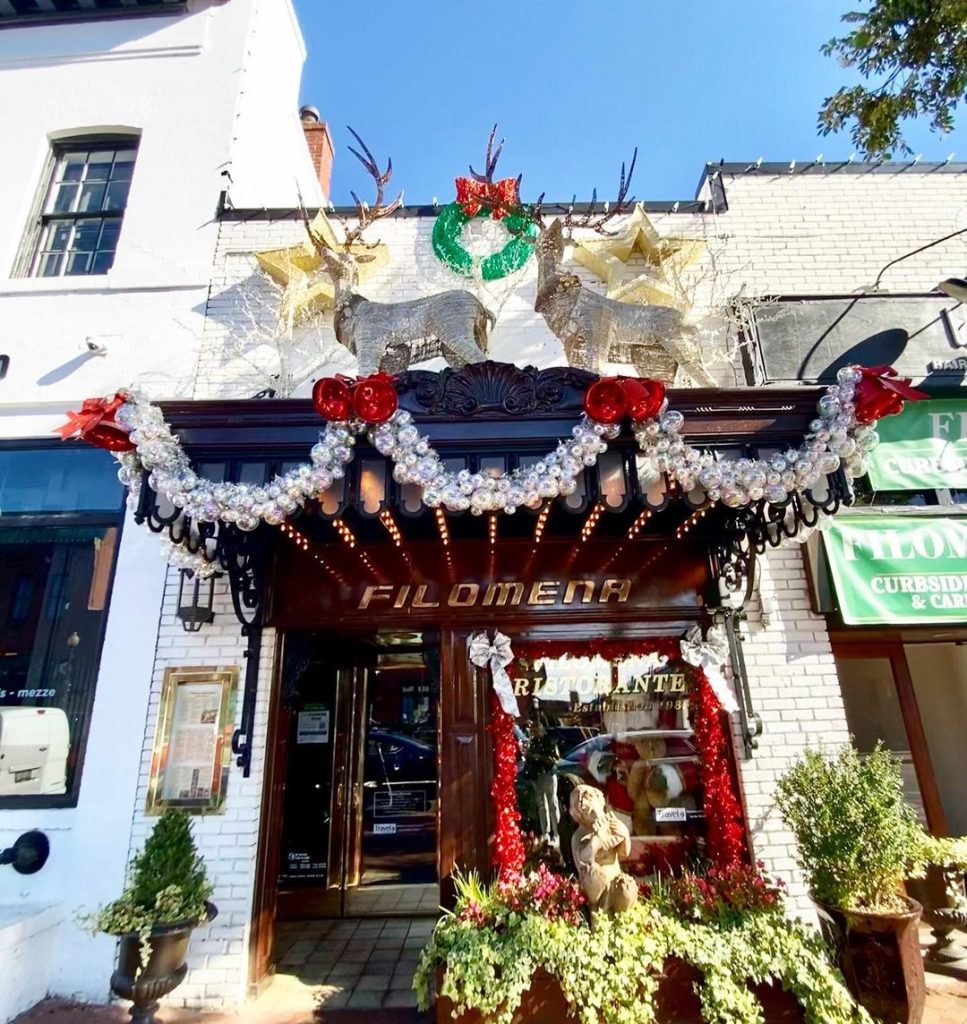 Honoring a long family tradition of holiday decorating, Filomena's is filled each with a spectacular tree and fun, silly and whimsical decorations inside and out. The over-the-top display is a visual delight.
10. Botanic Gardens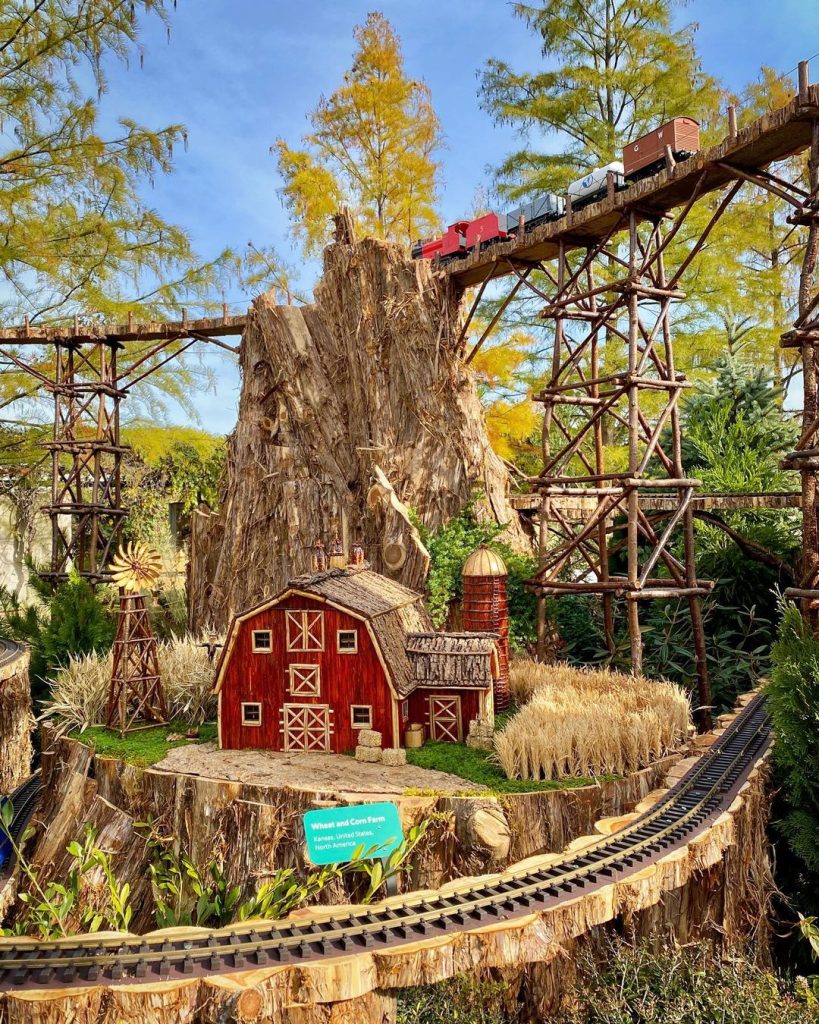 A highlight of the season is seeing the holiday display at the US Botanic Gardens. The US Botanic Garden features a large outdoor displays with model trains. All displays are made from plant parts and feature farming scenes from around the world. Window displays in the main building will have some of the DC landmarks that visitors typically expect to see but that are likely too fragile for the outdoor life this year.
11. City Center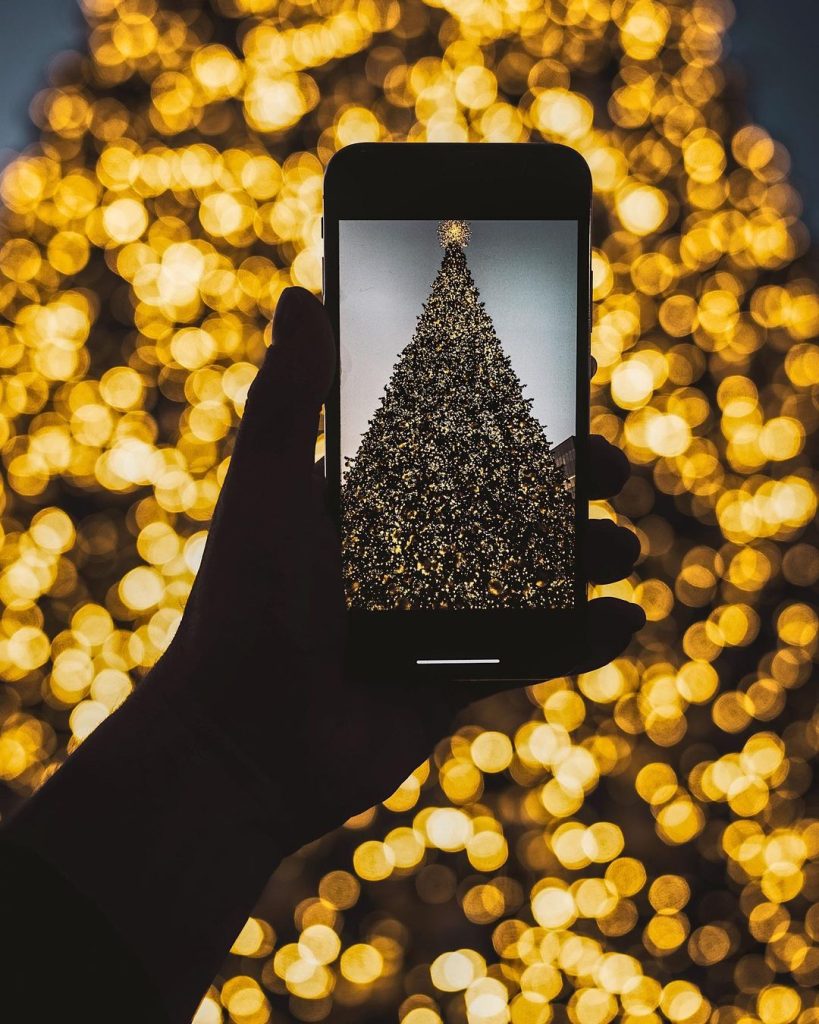 Whether you're at City Center to shop, or just see the holiday lights, there is plenty of spirit along the promenade including ice sculptures, string lights, and not one but two 25-foot tall reindeer. And the stores festive windows take it to a whole new level.
12. Light Yards at the Yards Park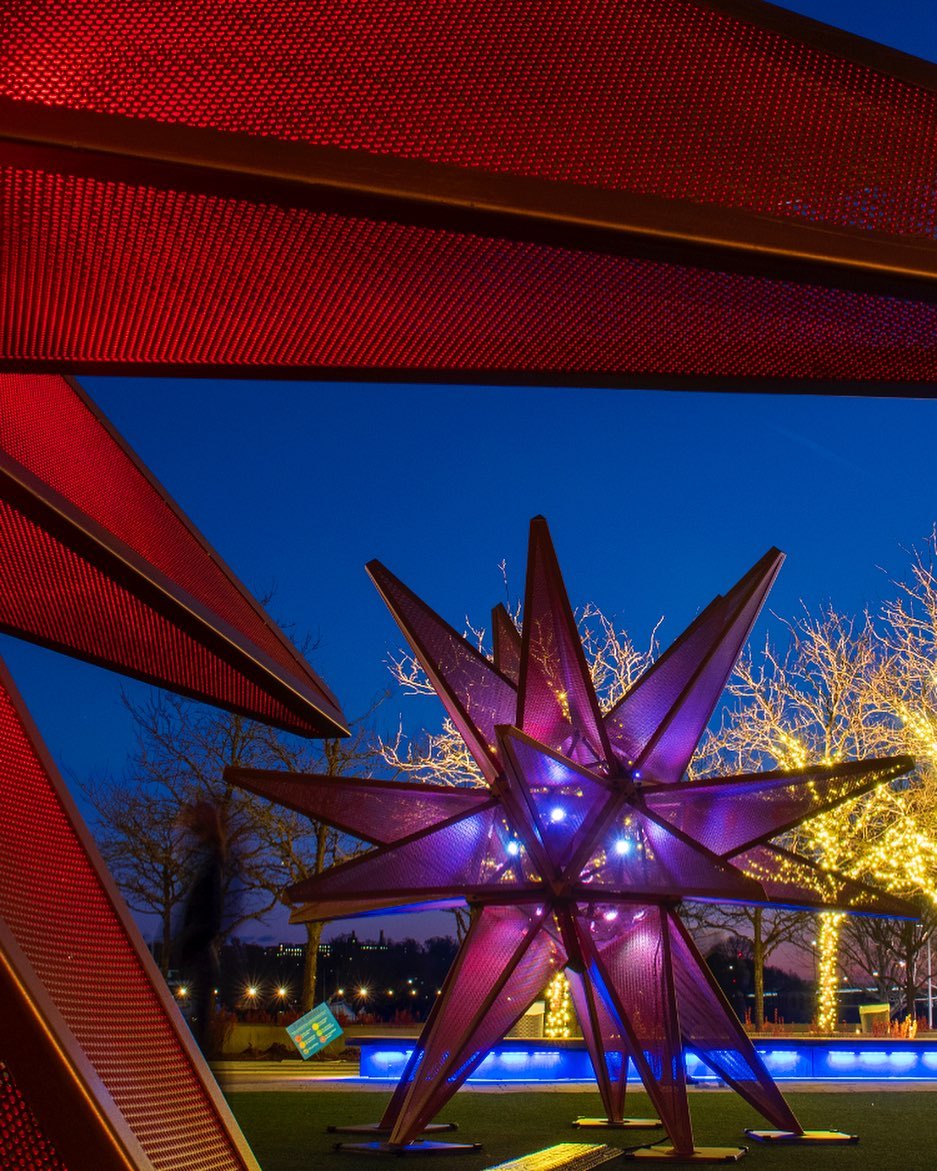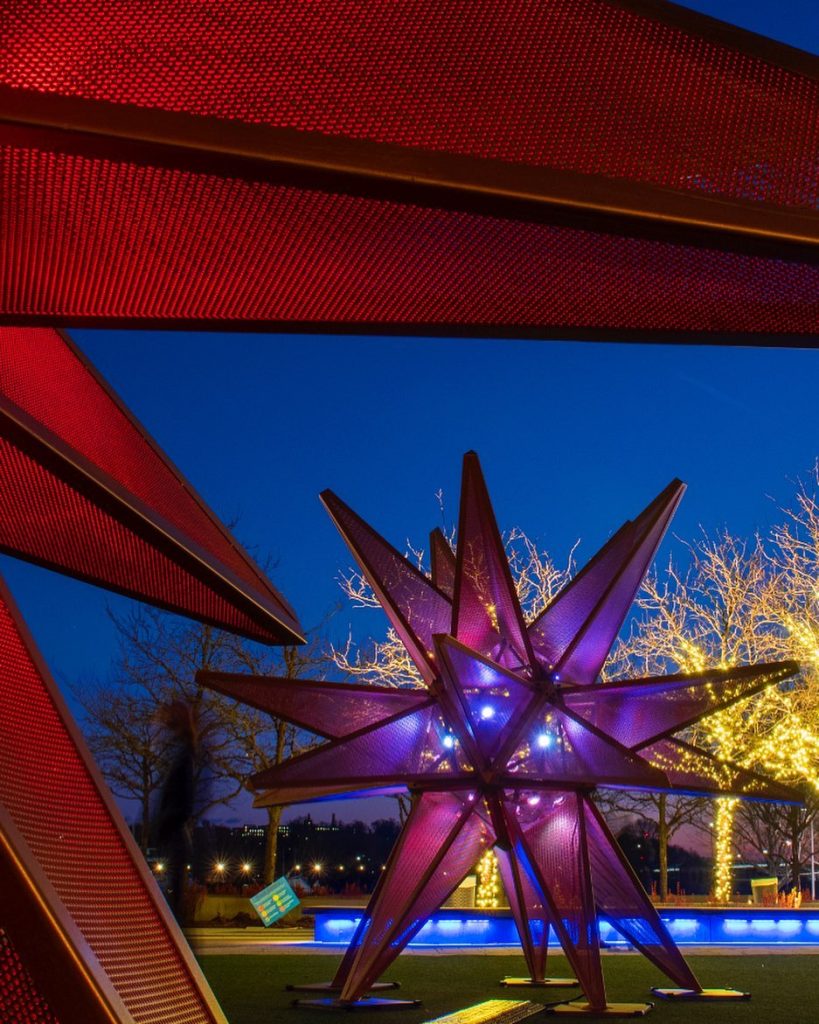 Along the Anacostia River comes an annual light instillation for the whole family. This year, from December 1 through January 1, 2022, several 22-feet tall trees will light the sky from 6 p.m. to 10 p.m. every night. Enjoy the lights and browse into the 20+ local restaurants and shops near Yards Park.
13. Light Up The Wharf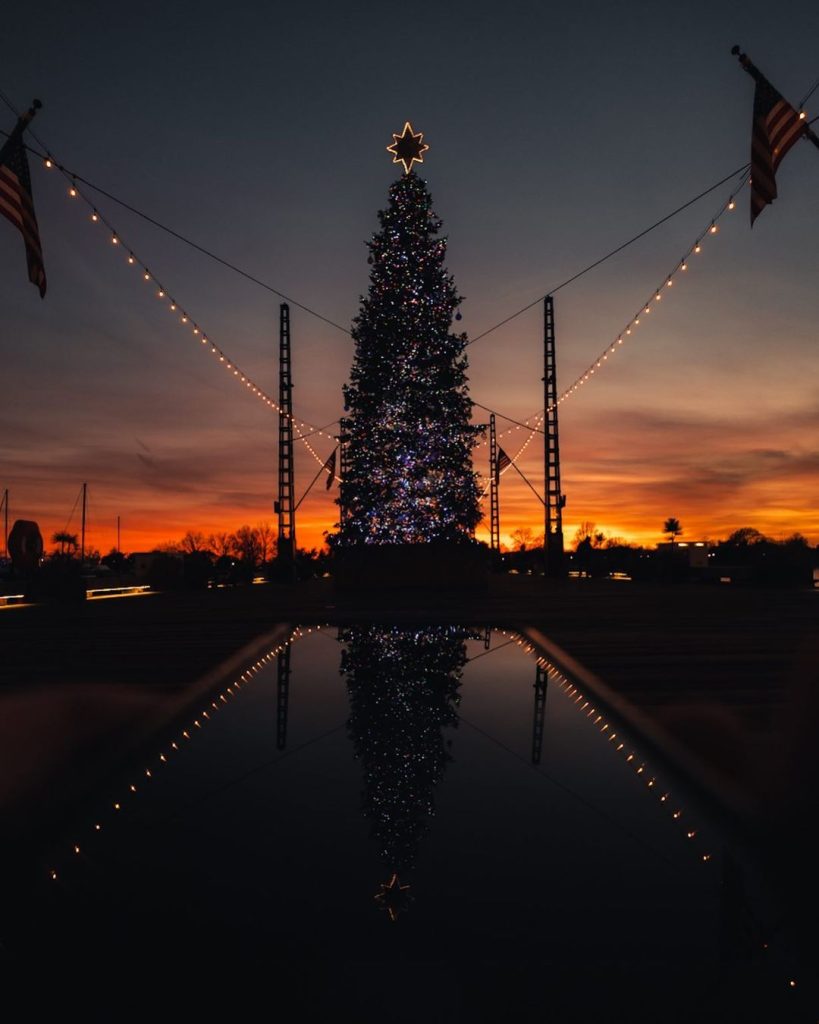 Camp Wharf (aka the fire pit) eating s'mores, caroling, or watching the District's Holiday Boat Parade with more than 60 decorated and glittering boats, the DC Wharf is a wonderful place to spend the day or night!
14. Tudor House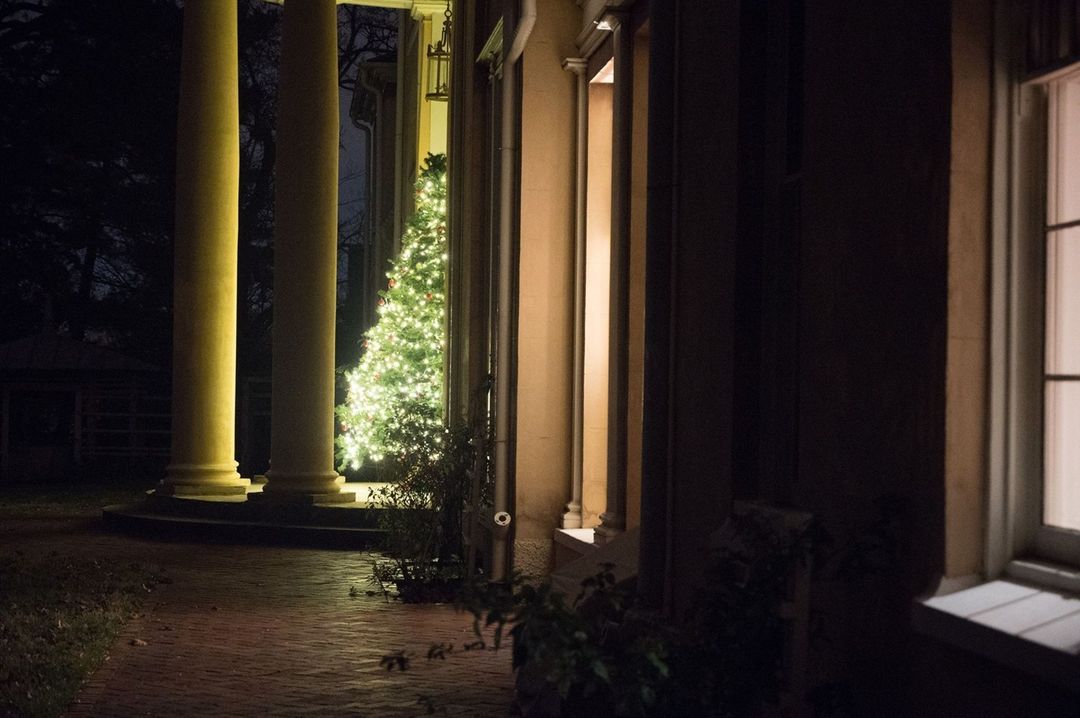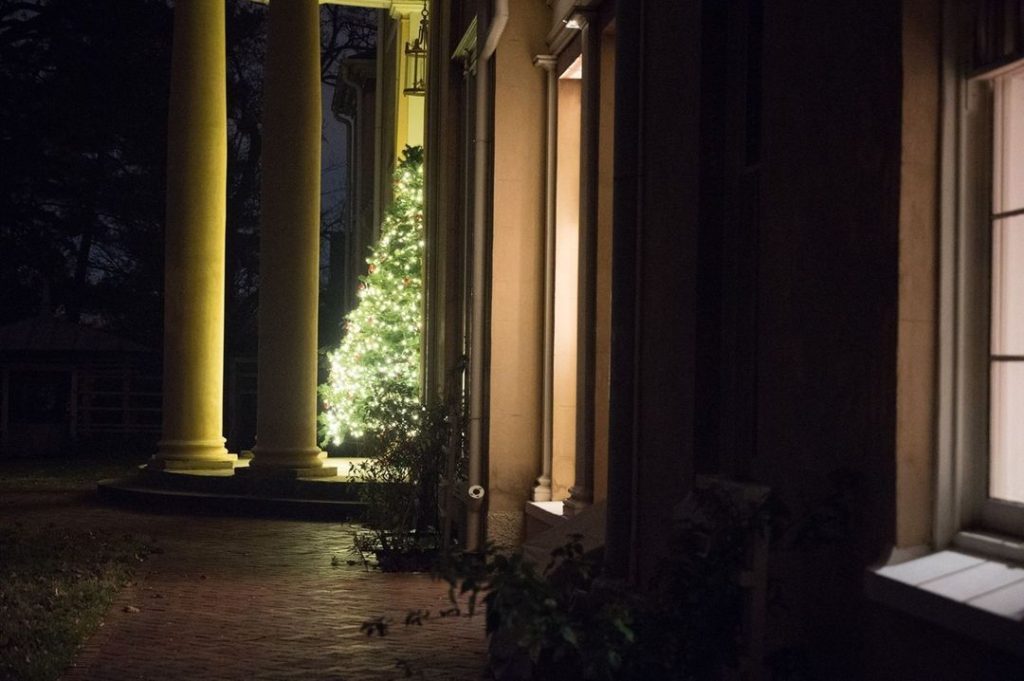 Every year, this 1815 Federal-style mansion with a connection to Martha Washington decorates for the holidays. On December 7th, they are hosting a Lantern Light Tour from 6 p.m. to 7:30 p.m. to see this year's decorations and learn about the mansion's past Christmas traditions. Tickets are between $15-$25.
15. NGA Ice Rink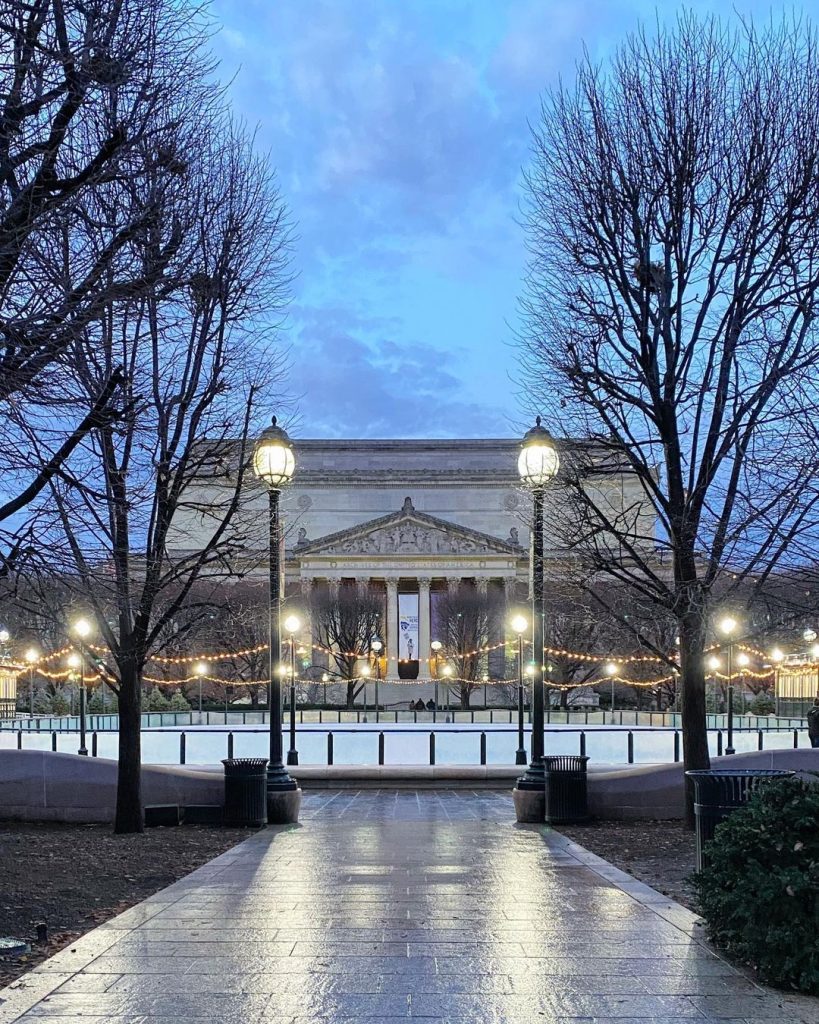 One of the more charming ice rinks in the city is surrounded by artwork and neoclassical architecture. The National Gallery of Art's rink is the perfect spot for a first date or to have that first skating lesson. Open daily and a 2-hour session runs between $6 and $7 plus a $3 skate rental if you don't bring your own.
16. DC Georgetown Ice Rink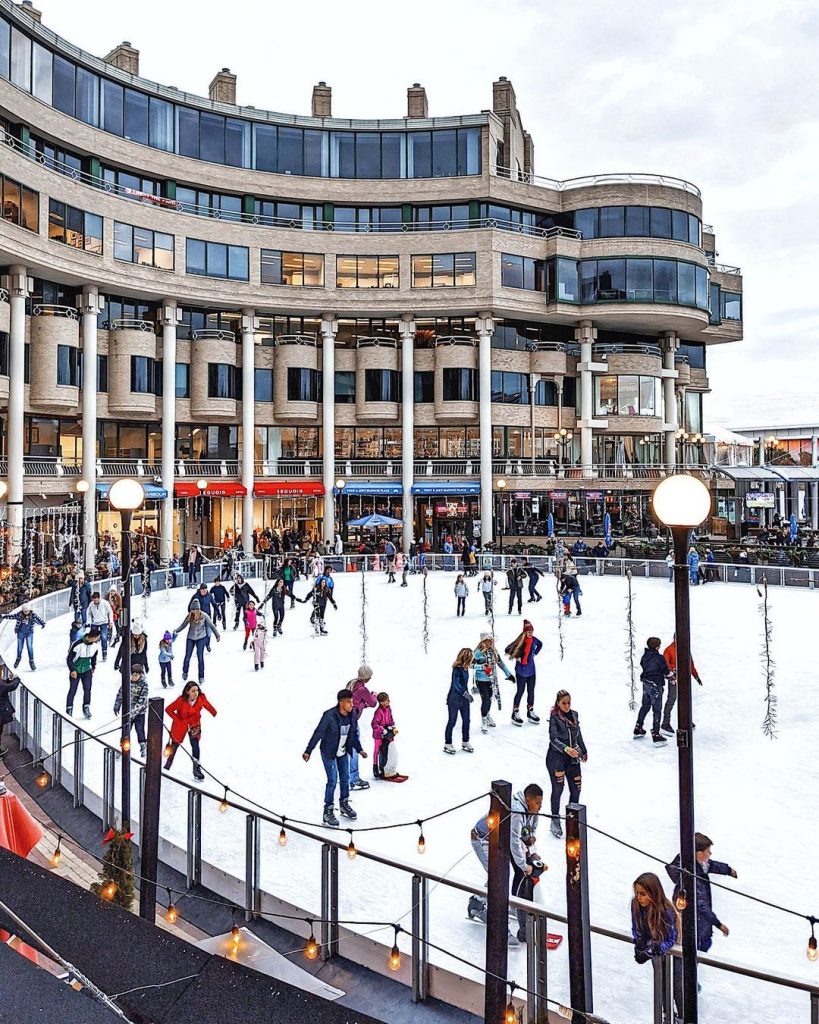 Skate every day at DC's largest outdoor skating rink at The Washington Harbour–open for skating every day, including the holidays. Tickets run between $9 and $10 plus a $7 skate rental if you don't bring your own.
17. Canal Park Ice Rink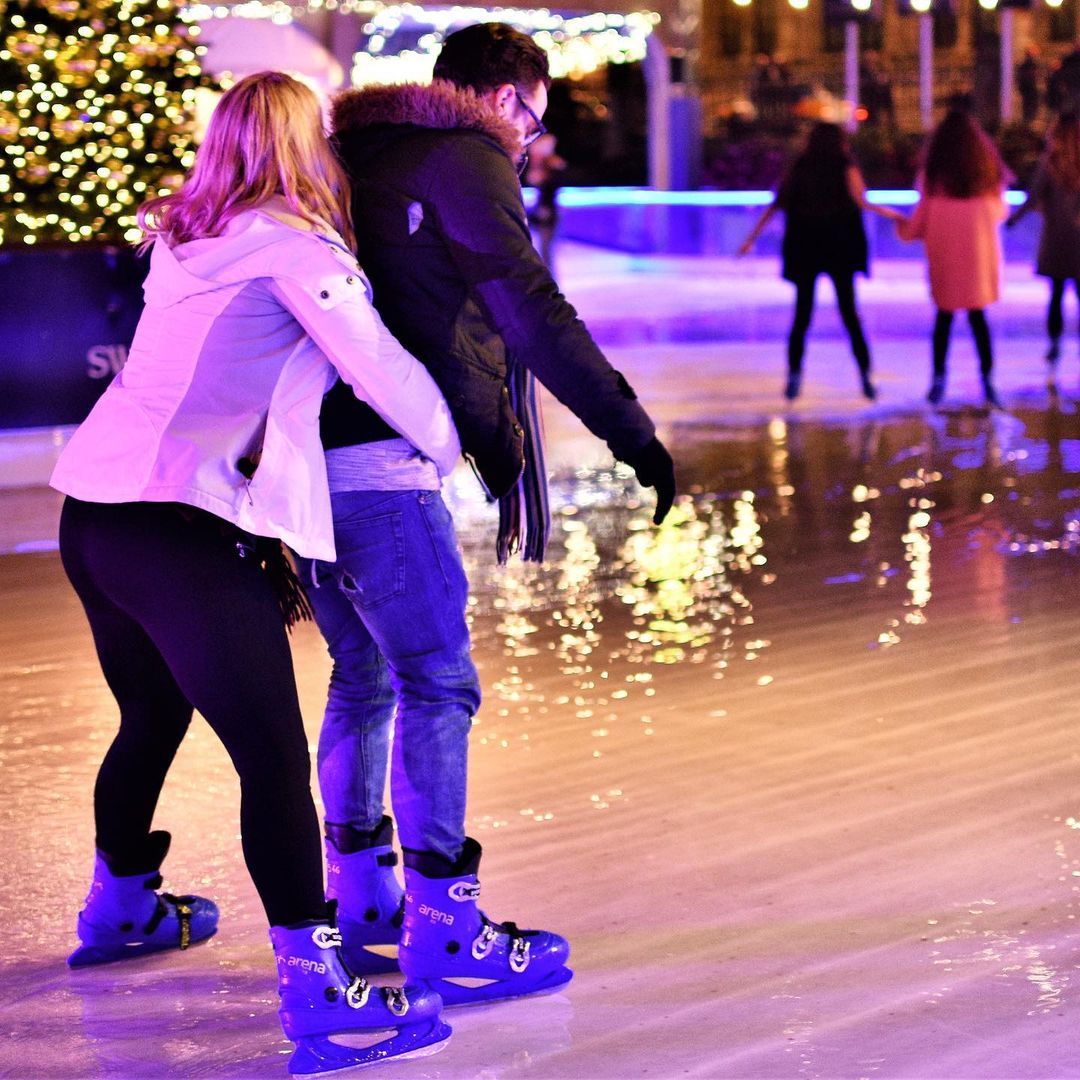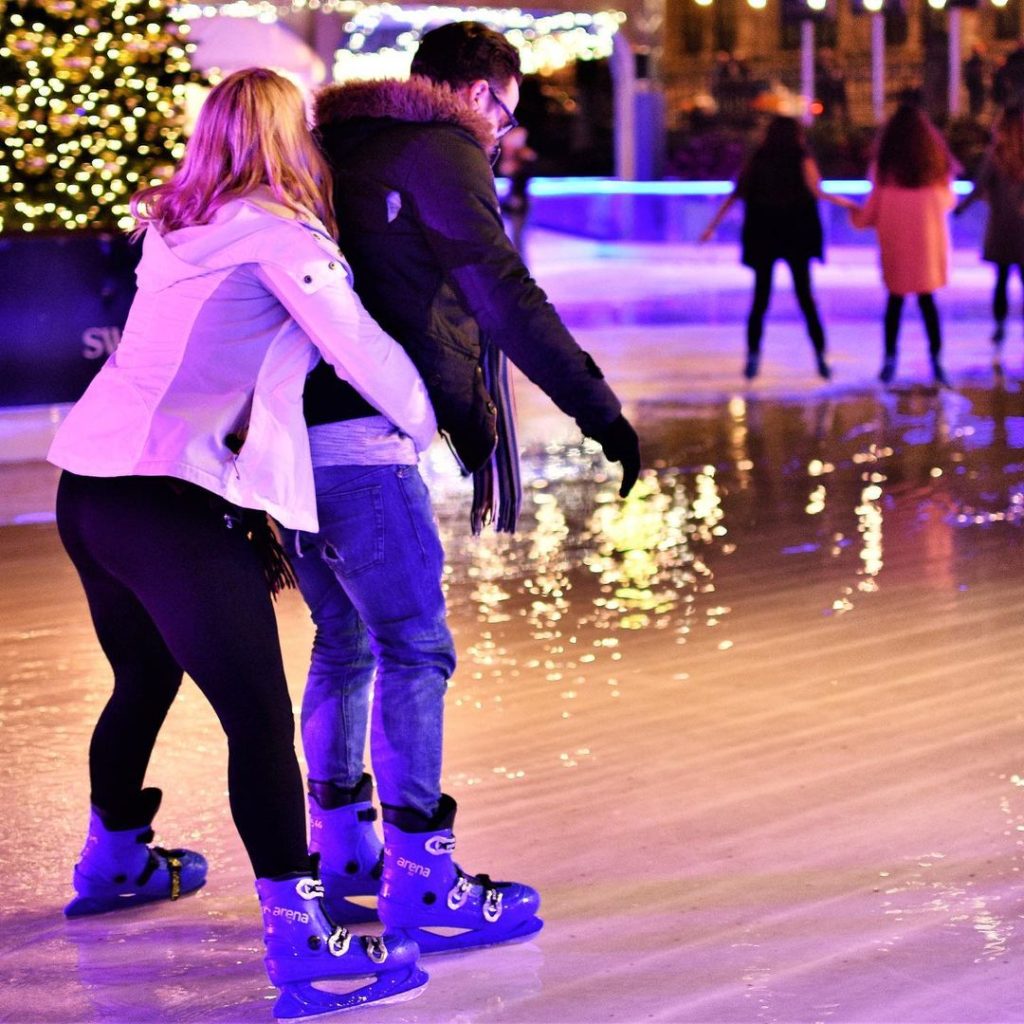 Every year, Navy Yard's Canal Park's splash park transforms into an ice rink from the end of November through February 2022. Skate rentals and admission range between $13 and $14. After skating, grab pizza and ice cream from nearby Wiseguy Pizza and Altani Gelato.
18. Maxwell Park Christmas Bar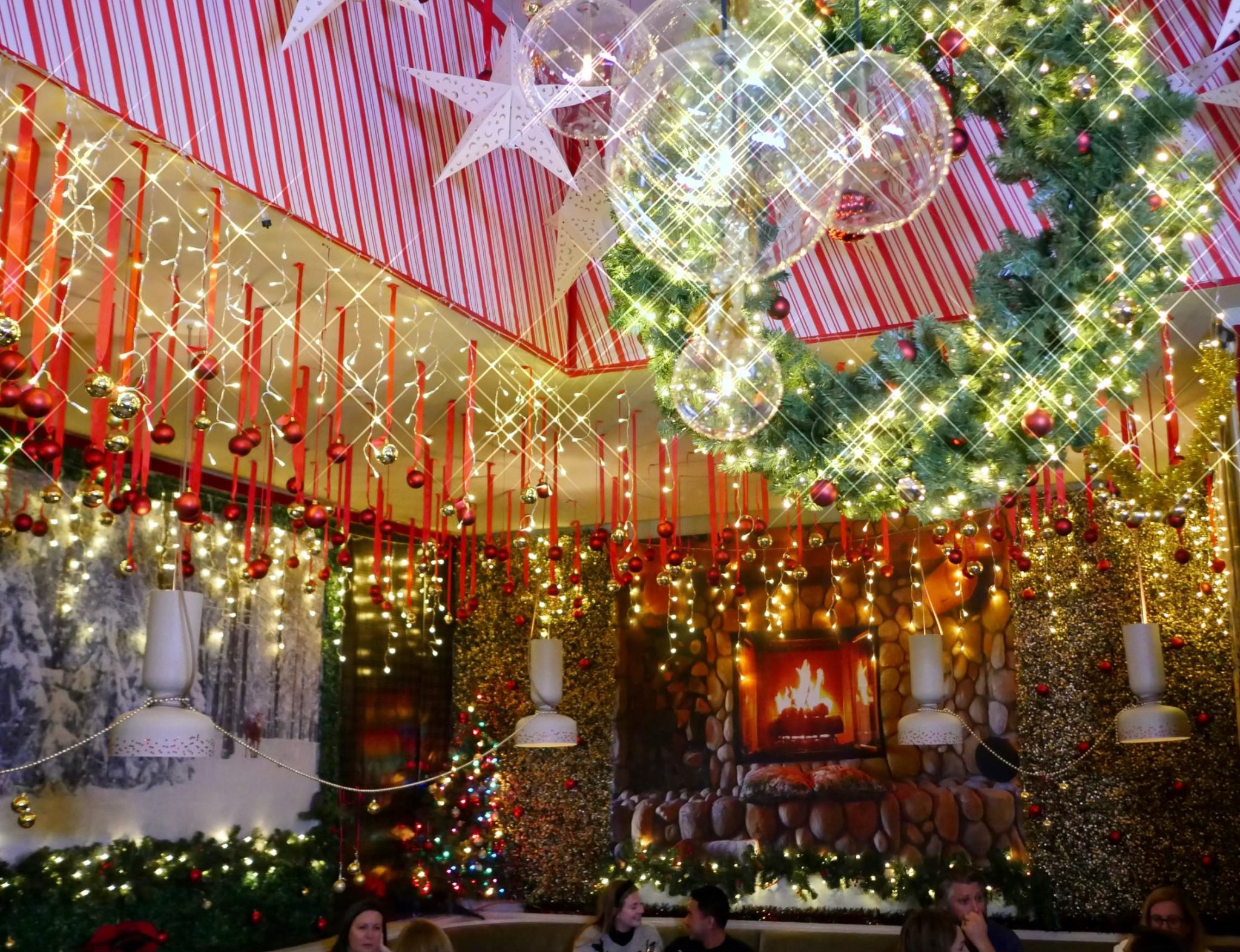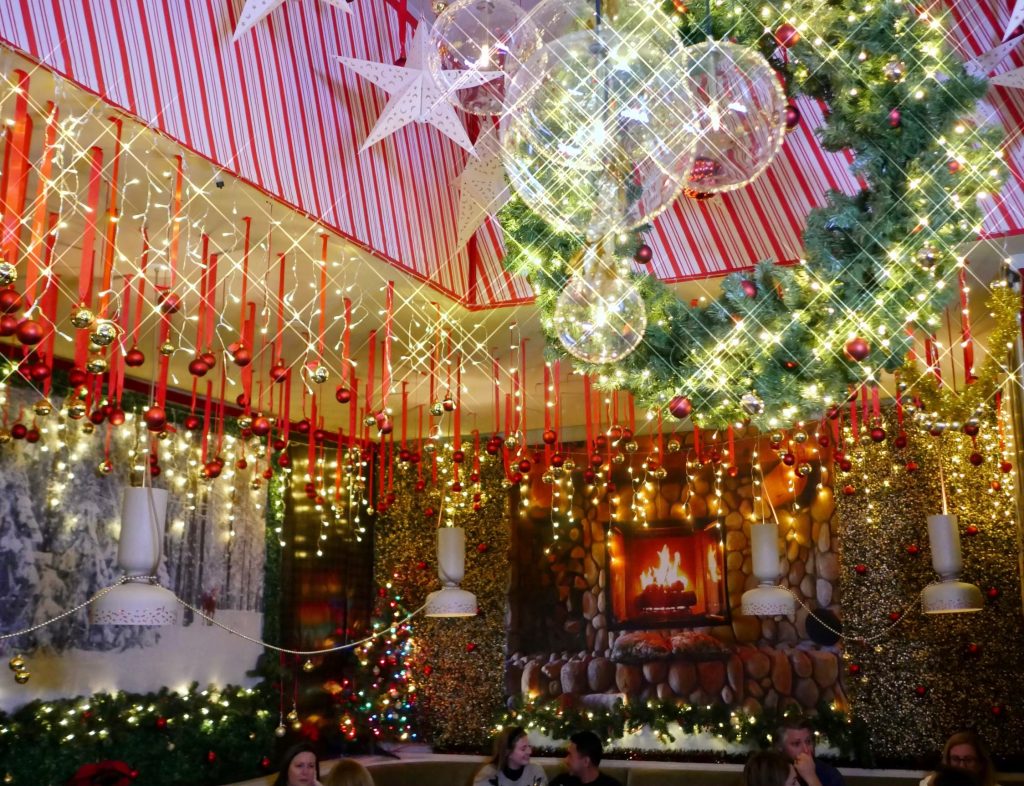 Looking for a cozy bar decked to the halls in holiday decor? Maxwell's has tapped the brilliant installation artist Adriana Salame Aspiazu to transform their space and it is a visual delight.
19. National Christmas Tree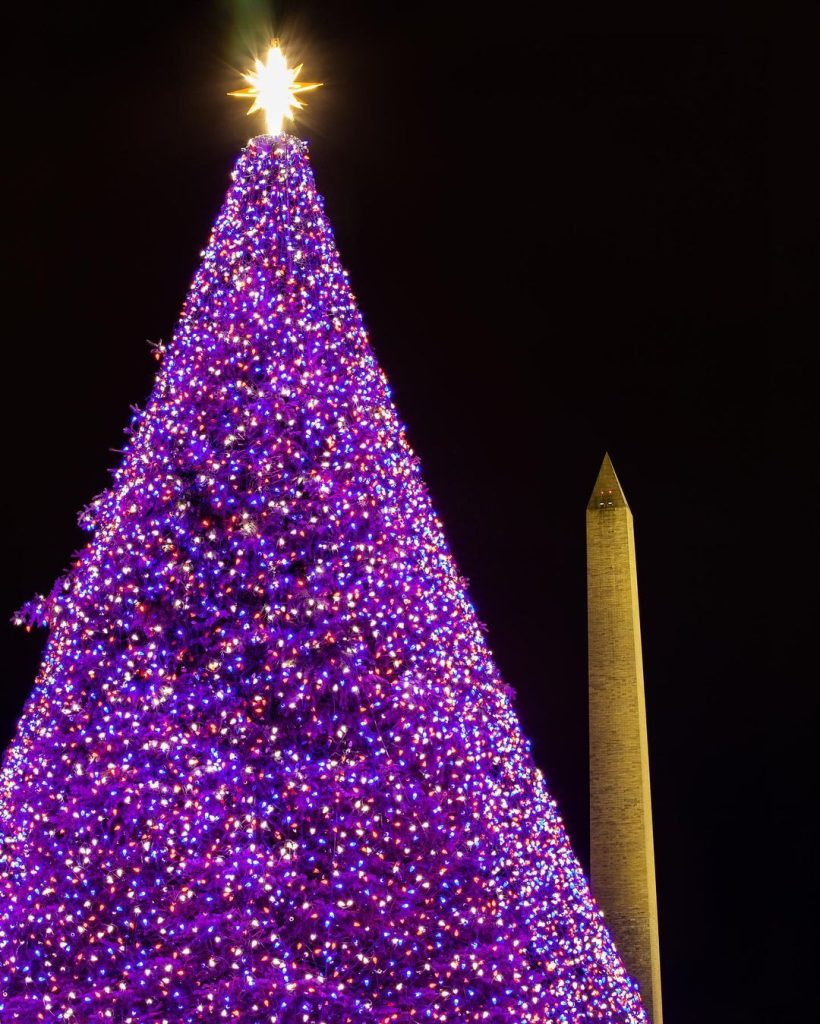 A tradition since 1923, the U.S. President lights the National Christmas Tree on The Ellipse. This year's tree is an 18.5-foot Fraser fir from North Carolina and it's surrounded by smaller trees honoring each U.S. state and territory.
20. Seneca State Park Winter Lights Festival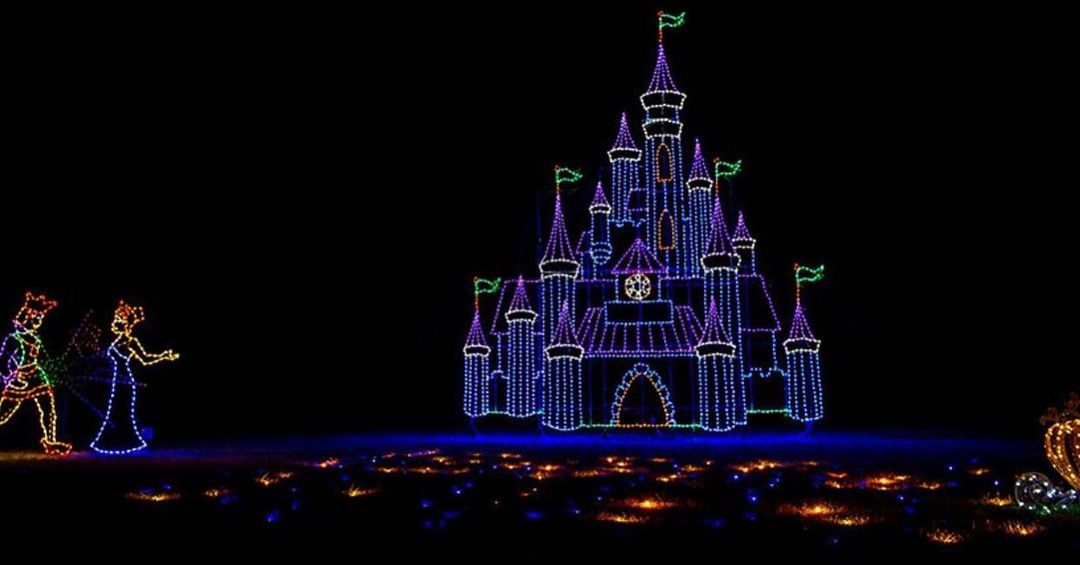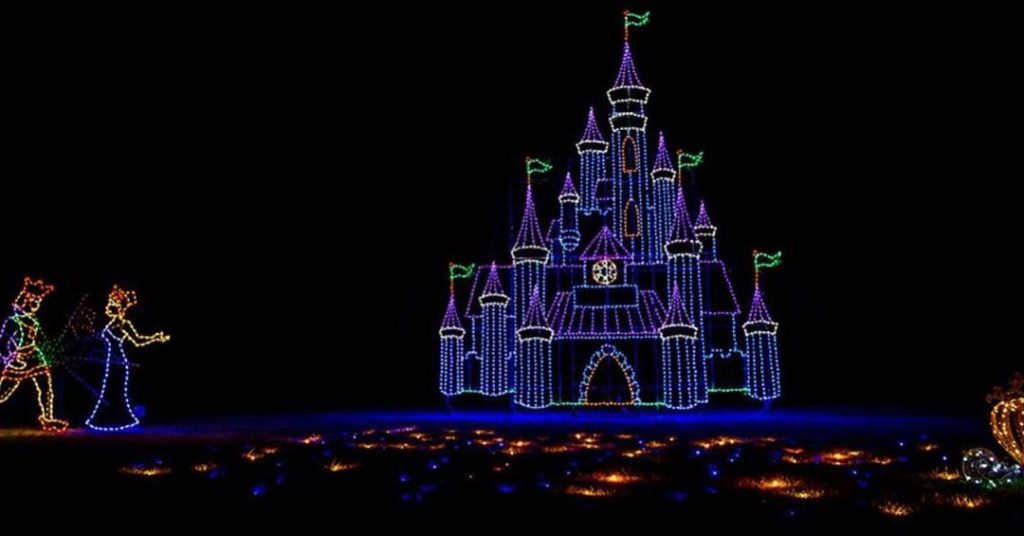 Long before the pandemic hit, the Winter Lights Festival at Seneca State Park has been social distancing. Visitors stay in their cars, driving 3,5 miles passing 450 illuminated displays and lit-up trees. Tickets are $15-$30 and they are open daily from November 26th through December 31st. (They are closed Christmas Day.)
21. Brookside Gardens' Garden of Lights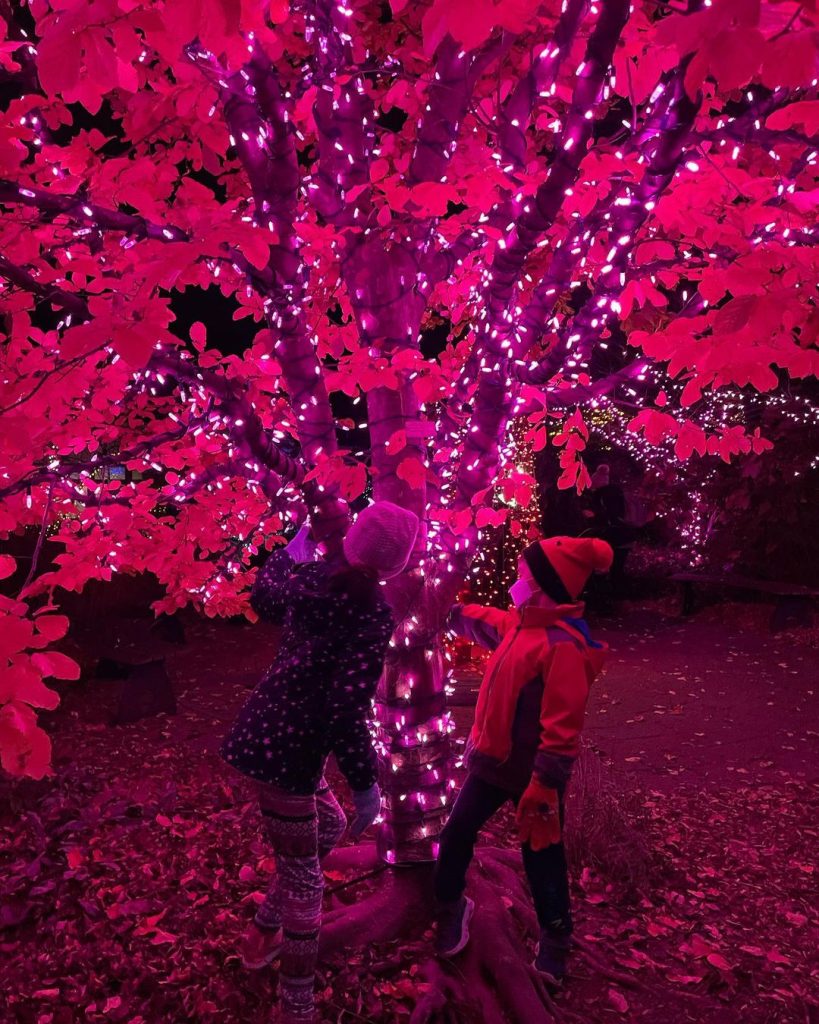 For the 23rd year, Brookside Gardens' 50 acres are transformed into a holiday light extravaganza with over one million LED lights decorating the gardens. Admission is free and it's open daily from November 19th through January 2nd, 2022. Note that the gardens are closed Christmas Eve and Christmas Day.
22. Holidays at the Harbor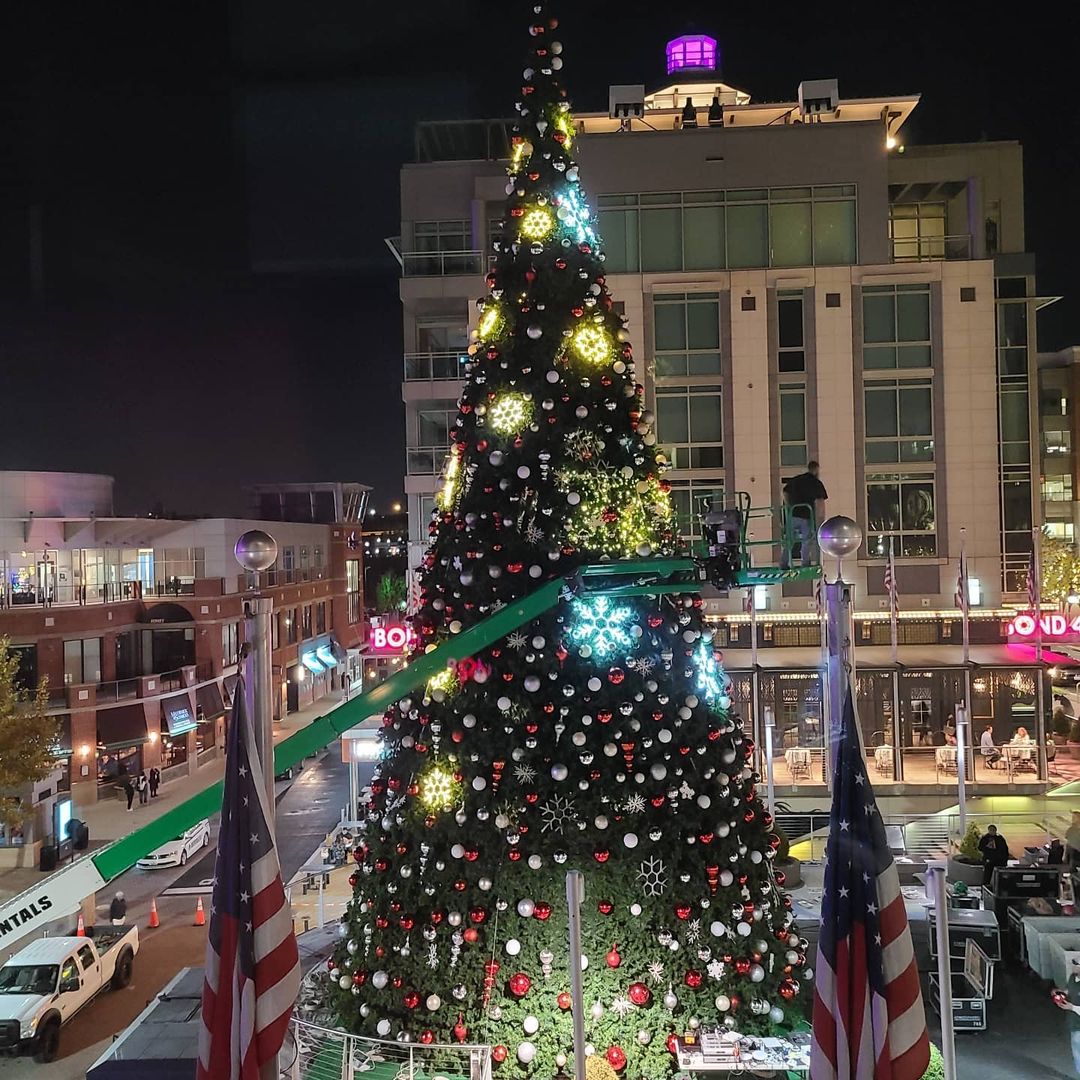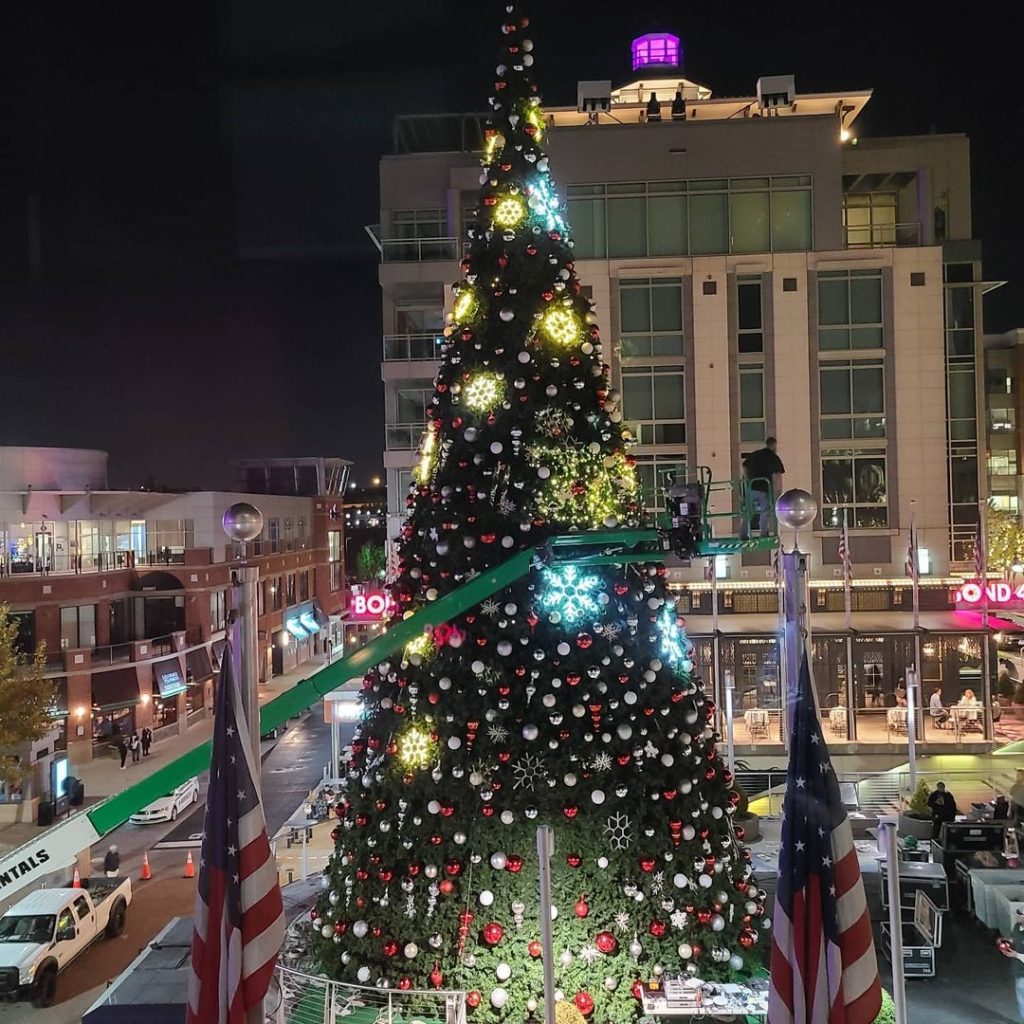 Just south of Washington, D.C. is Holidays at the Harbor at the National Harbor. From holiday storytime on Saturdays at 2 p.m. to free hot chocolate at select stores on weekends, there's much to do! Every night from sunset to 9 p.m. there's a light show on a 54-feet Christmas tree. At 5:30 p.m. on Saturday through December 18th, a holiday firework show is set off. They even have a holiday pop-up bar and classic holiday movie nights!
23. Reston Town Center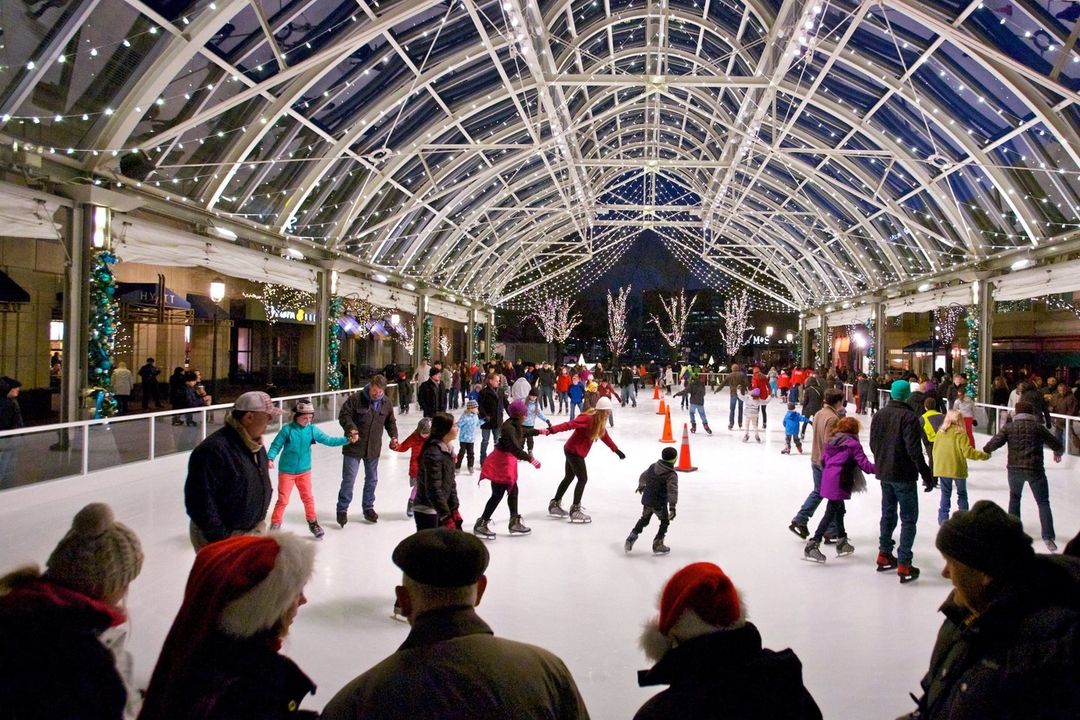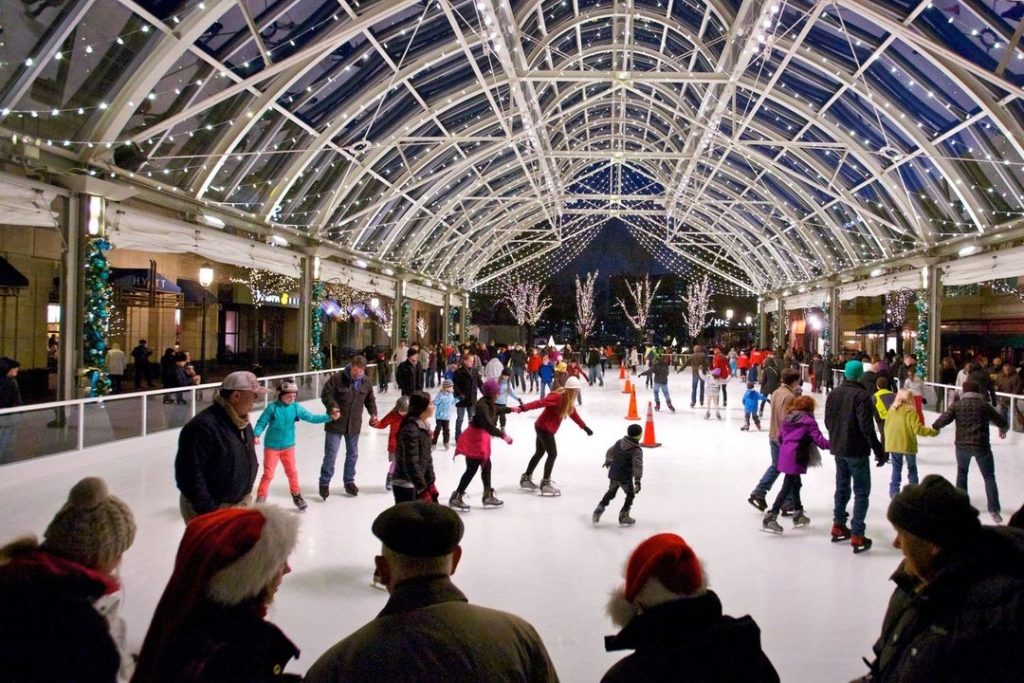 The ice rink underneath the grand pavilion certainly takes center stage for a picturesque holiday experience but the Reston Town Center shimmers in thousands of strands of lights at every turn. There's a weekend horse-drawn carriage and a mini-train ride, too. You will have SNOW MUCH FUN dining, shopping and playing in this dynamic urban destination.
24. Meadowlark Walk of Lights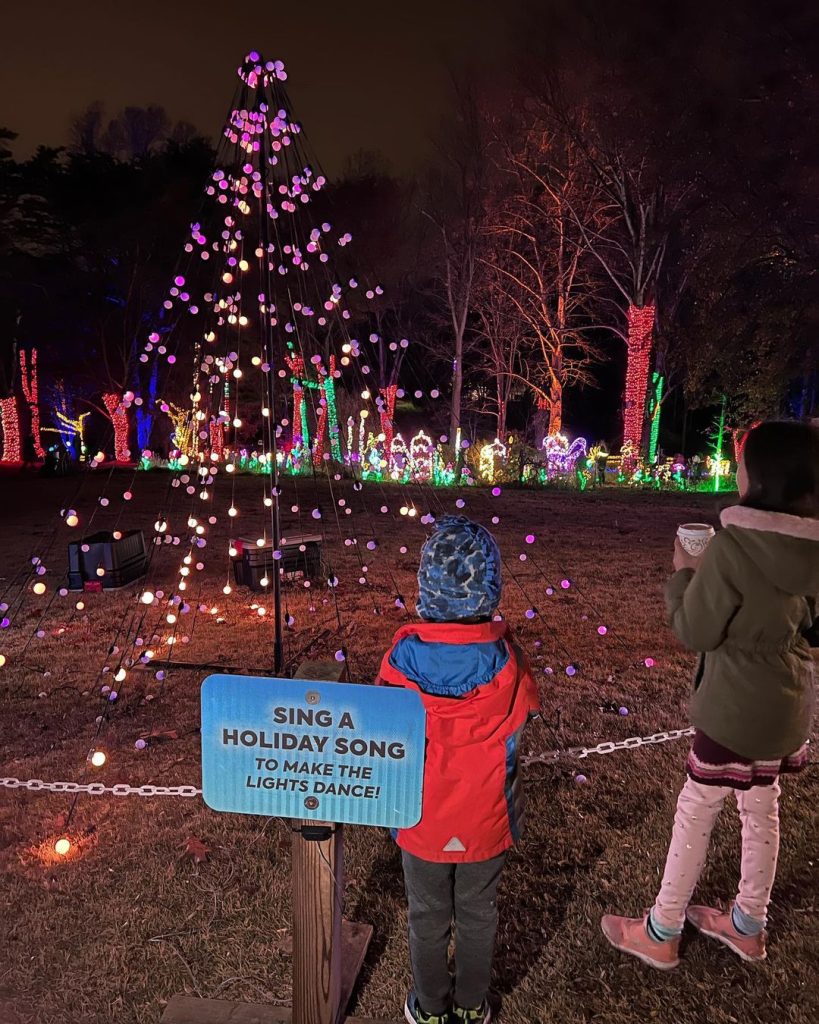 This 95-acre garden in Vienna, Virginia hosts a holiday half mile Winter Walk every night now through January 2nd. Tickets are between $5 and $18 and it's one of the few places open on Thanksgiving Day, Christmas Day and New Years Day.
25. Mount Vernon's Christmas Illuminations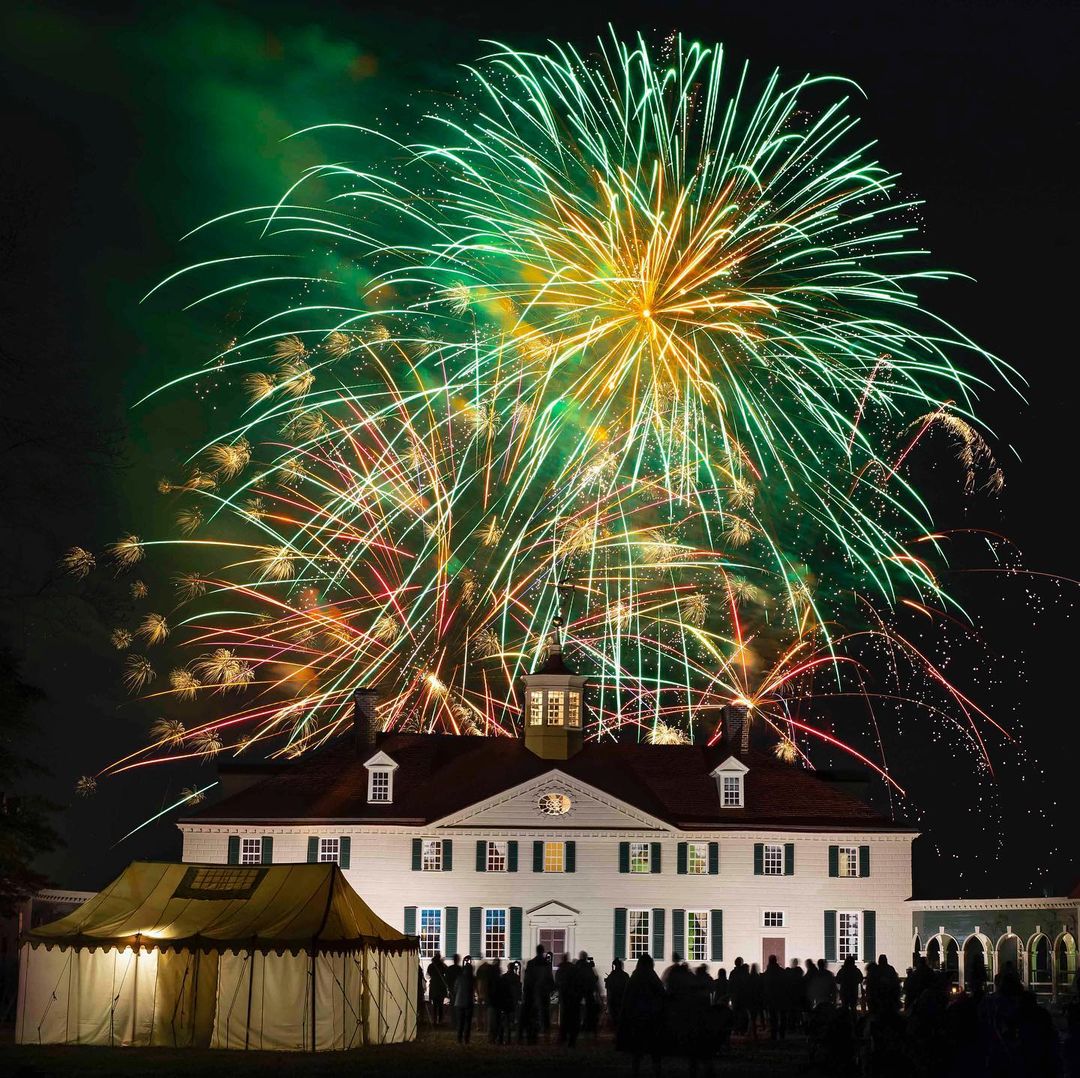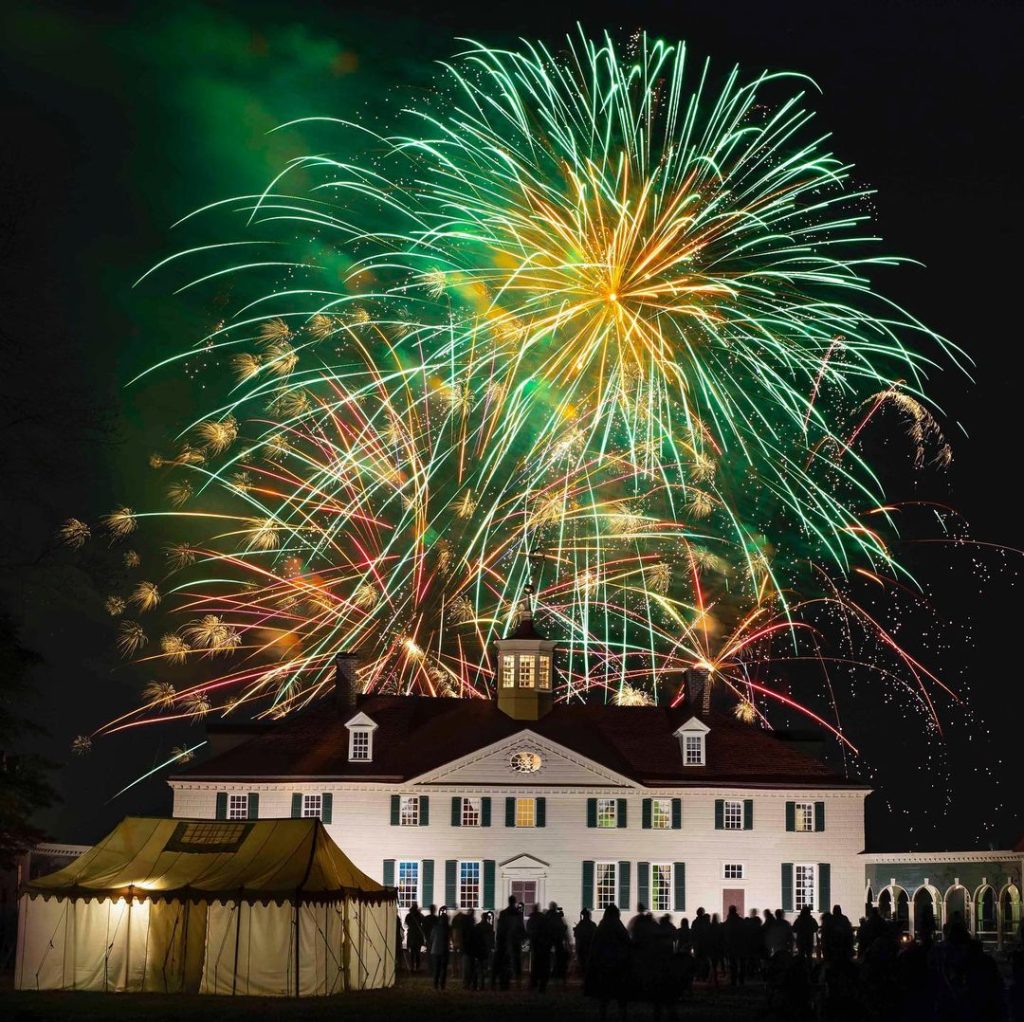 For historic buildings and properties, holiday decor must be historically accurate and can be limiting in our modern day of visual overload. What better way to push the limits than with a grand firework display? George Washington's Mount Vernon gets it right and we love to see the mansion framed in light bursts. The event only runs for one weekend in December–the 17th and 18th this year–and tickets are available at www.mountvernon.org
26. LuminoCity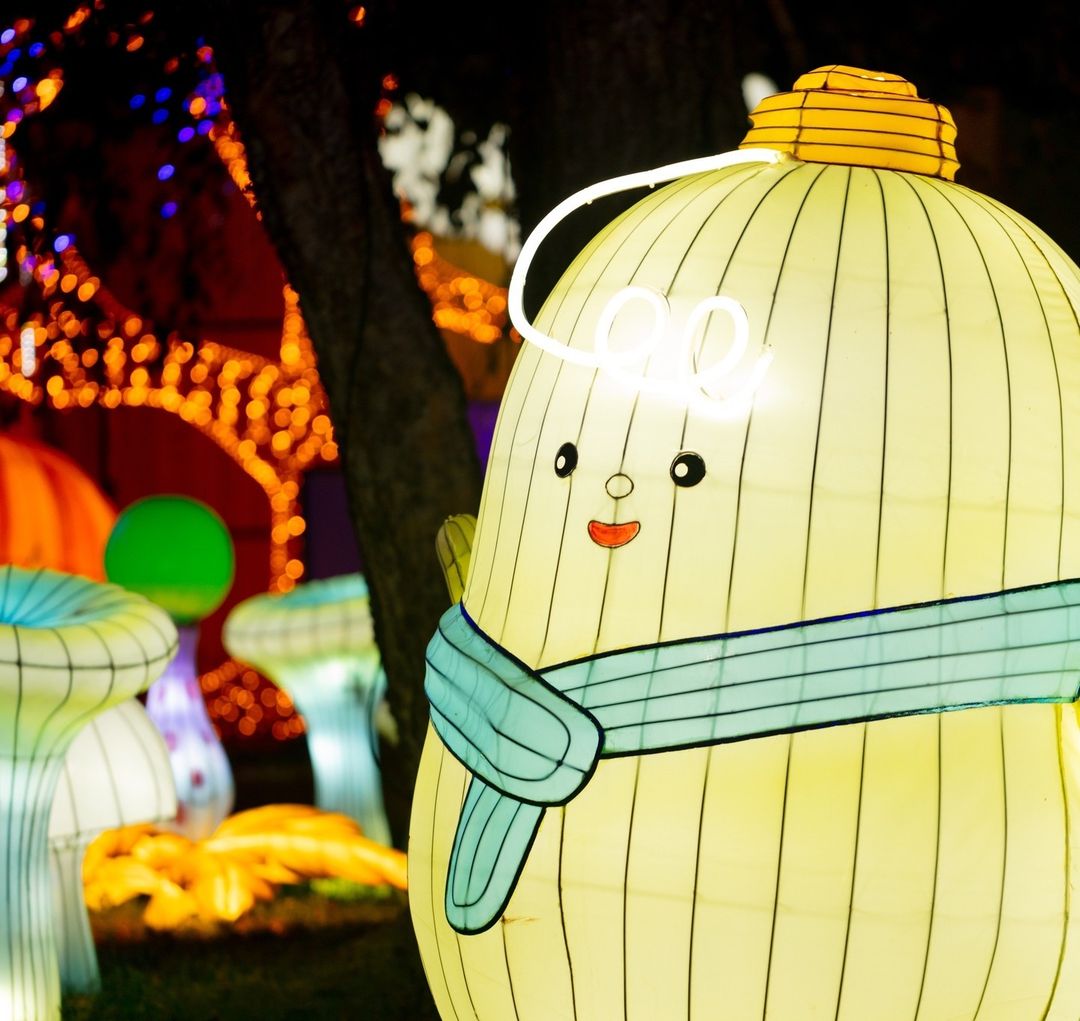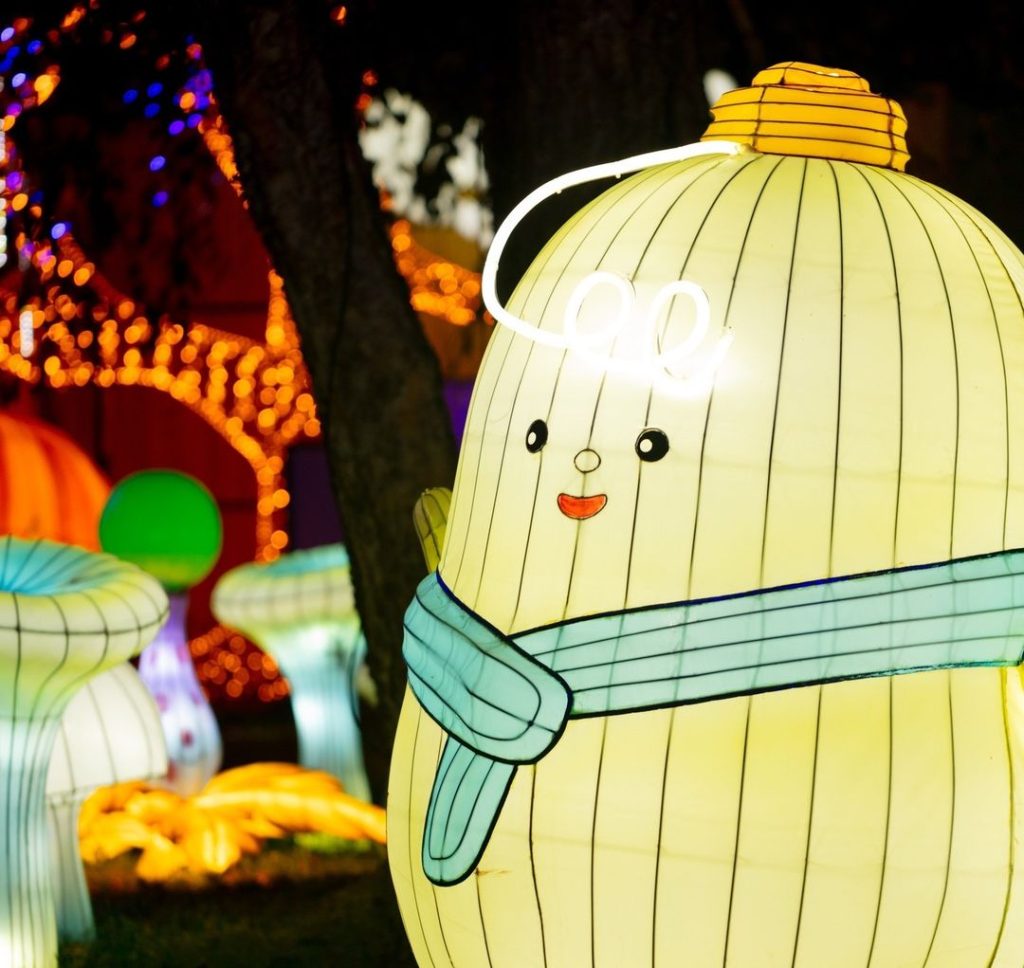 Once Roer's Zoofari closes in Vienna, Virginia, it transforms into a holiday light show depicting animals from around the world, including a dinosaur exhibit. Tickets are $32 per adult and $22 per kid age 3-12. On-site parking costs $5. It's open most Thursday, Friday, Saturday and Sunday nights in December and it's open every day of Christmas Week. Go early to enjoy the zoo too!
27. Christmas Card Lane in Del Ray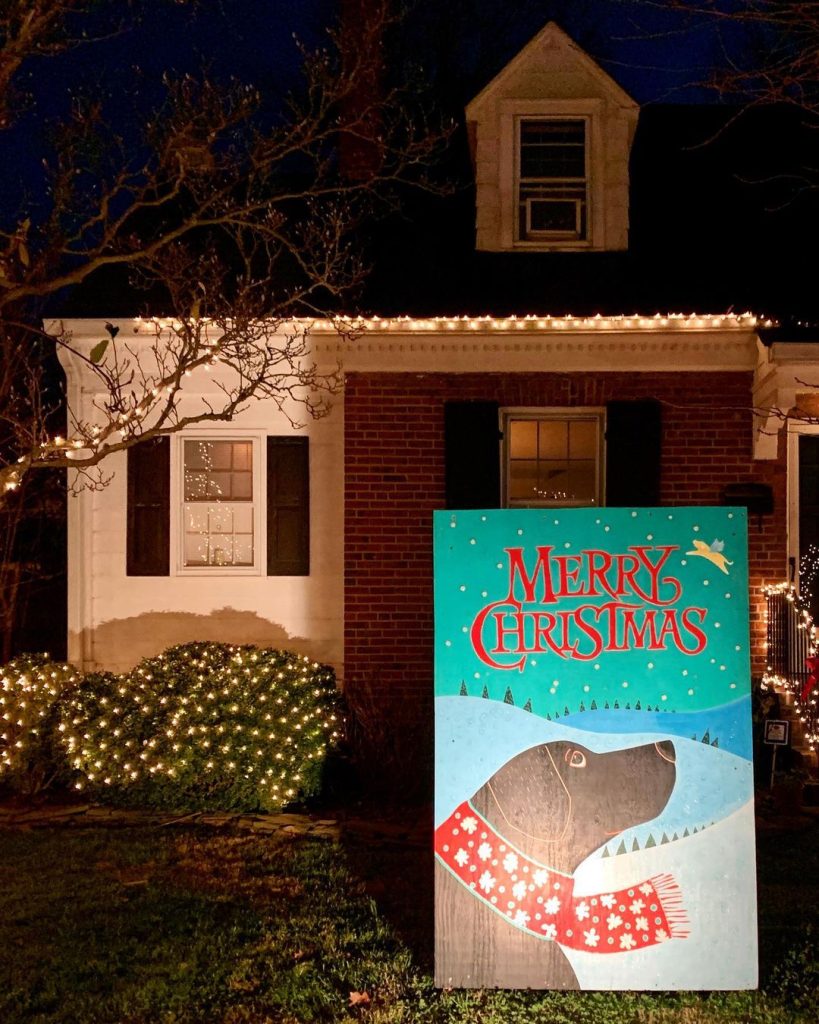 Dubbed "Christmas Card Lane," Del Ray's East Luray Avenue decorates for the holidays by painting large cards for their lawns. It started when a woman wanted to replicate the tradition from her hometown in Michigan. For a fun outdoor family activity, grab frozen custard from The Dairy Godmother and walk along East Luray Avenue.
28. Pentagon Row Ice Rink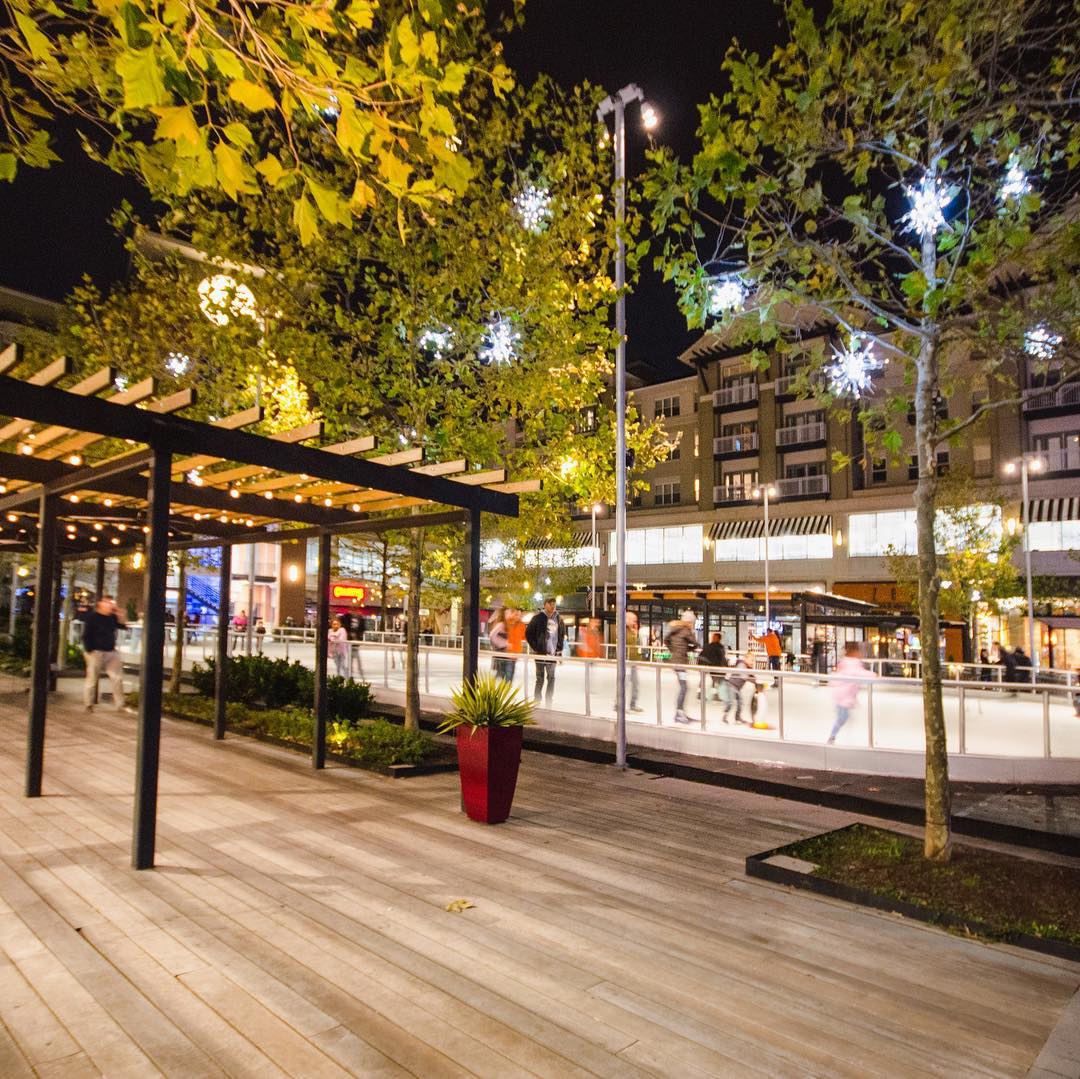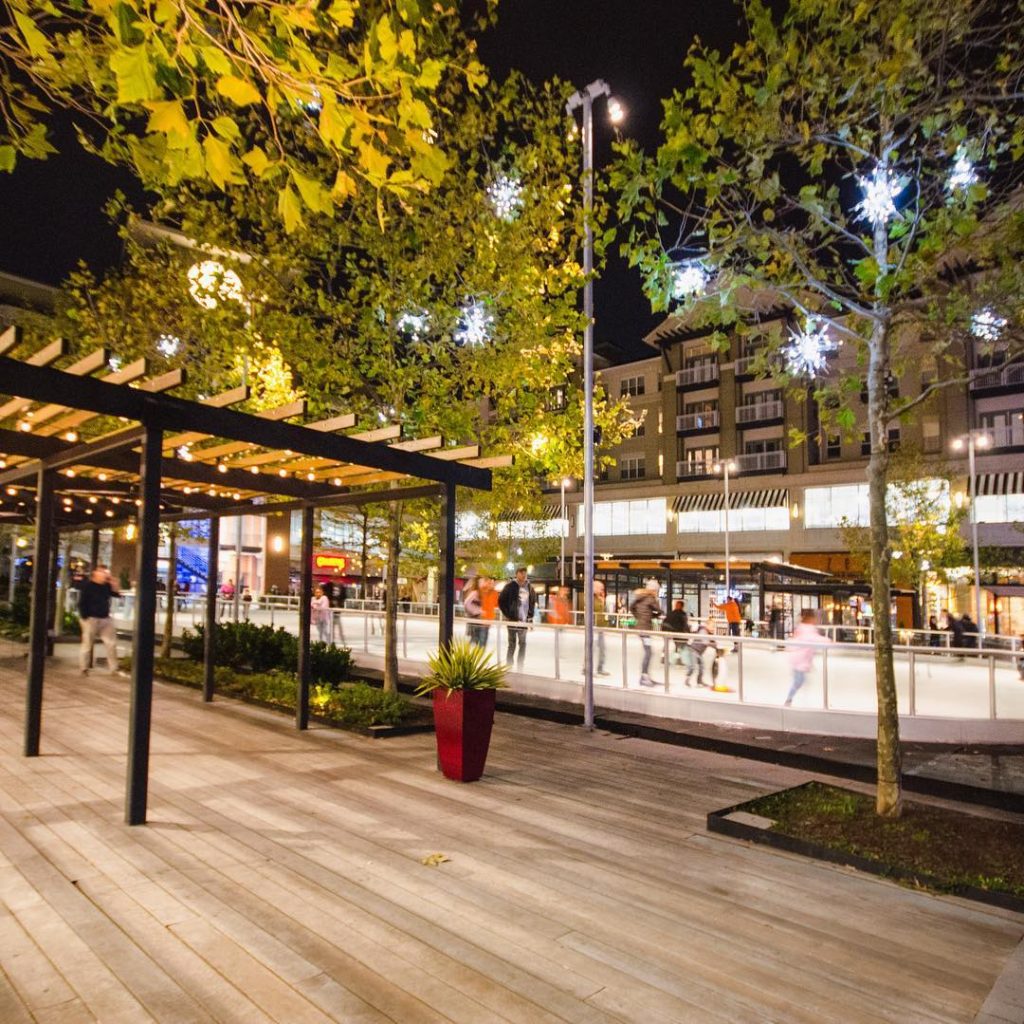 Pentagon Row's 6,840 square foot ice rink is the largest in Northern Virginia. Open daily, admission and rentals range between $15 and $16. Online reservations are required. Surrounding the ice rink are fire pits making for cozy breaks from the ice.
29. Old Ebbitt Grill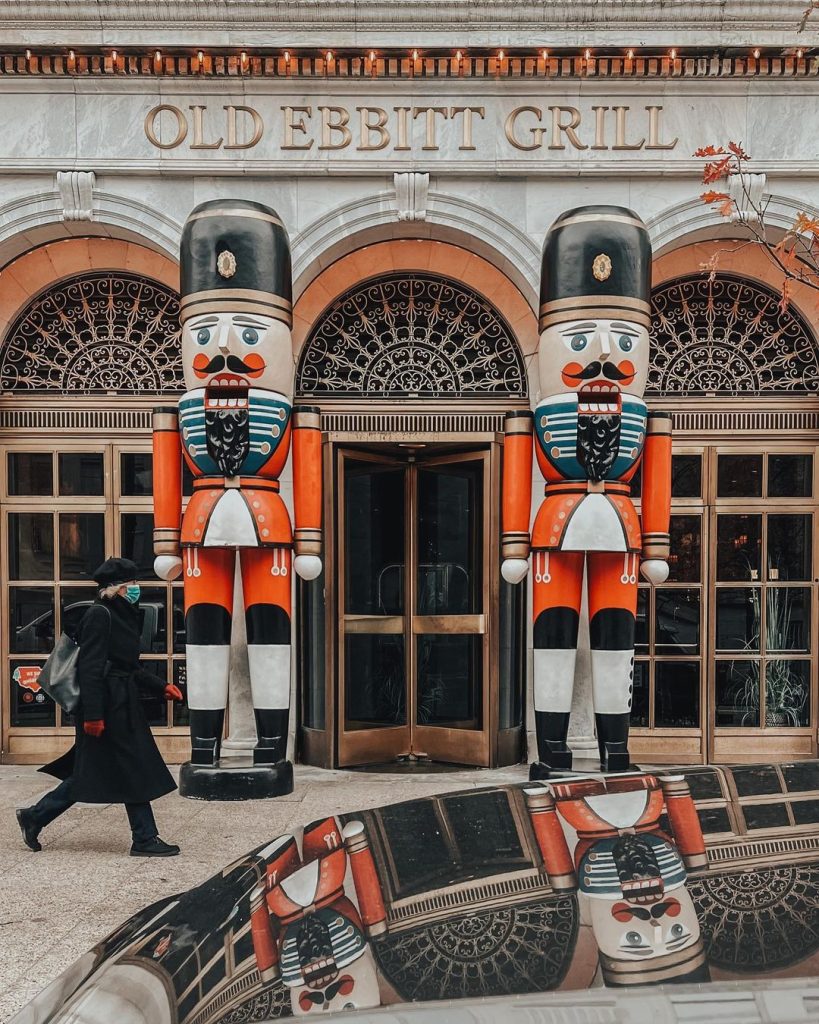 The Old Ebbitt Grill is Washington's oldest saloon and dates back to 1856. Every year we look forward to the giant Nutcrackers that flank the entrance to this beloved establishment and the coziness inside makes it a holiday tradition for both visitors and residents.
30. Old Town Alexandria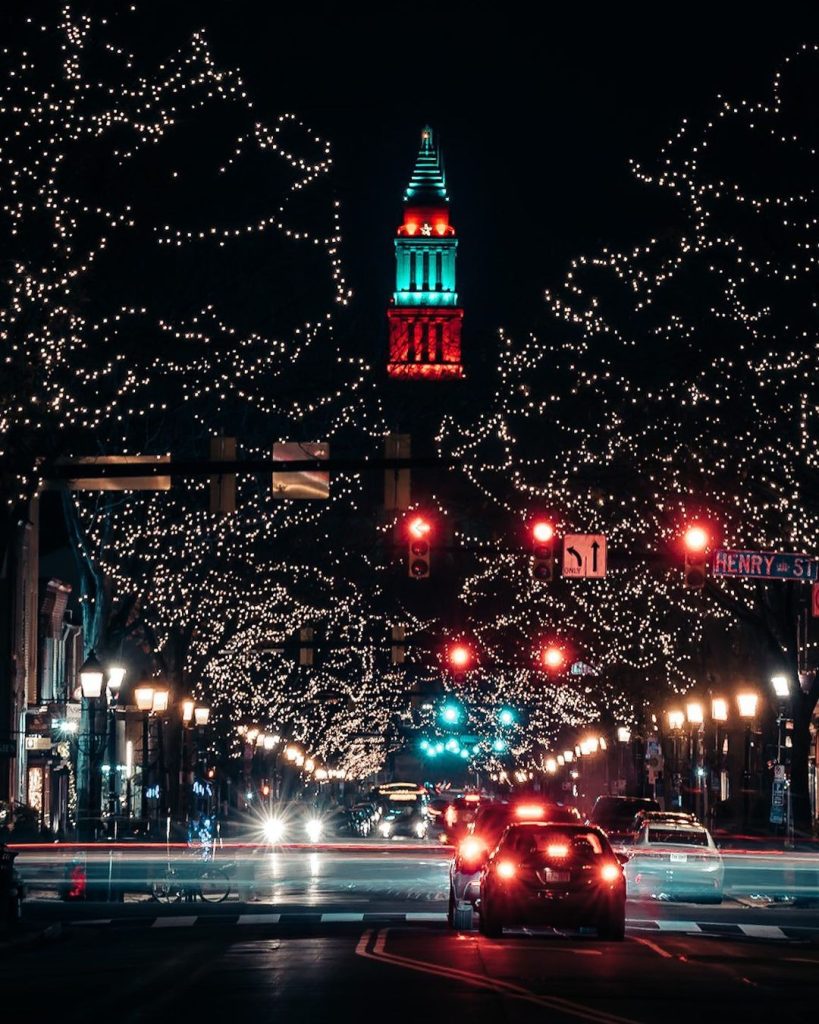 Across the river in Old Town Alexandria, VA, all the trees are decorated along King Street and the historic homes hang the best wreaths. The George Washington Masonic Temple lit up in red and green offers the perfect backdrop!
31. Downtown Holiday Market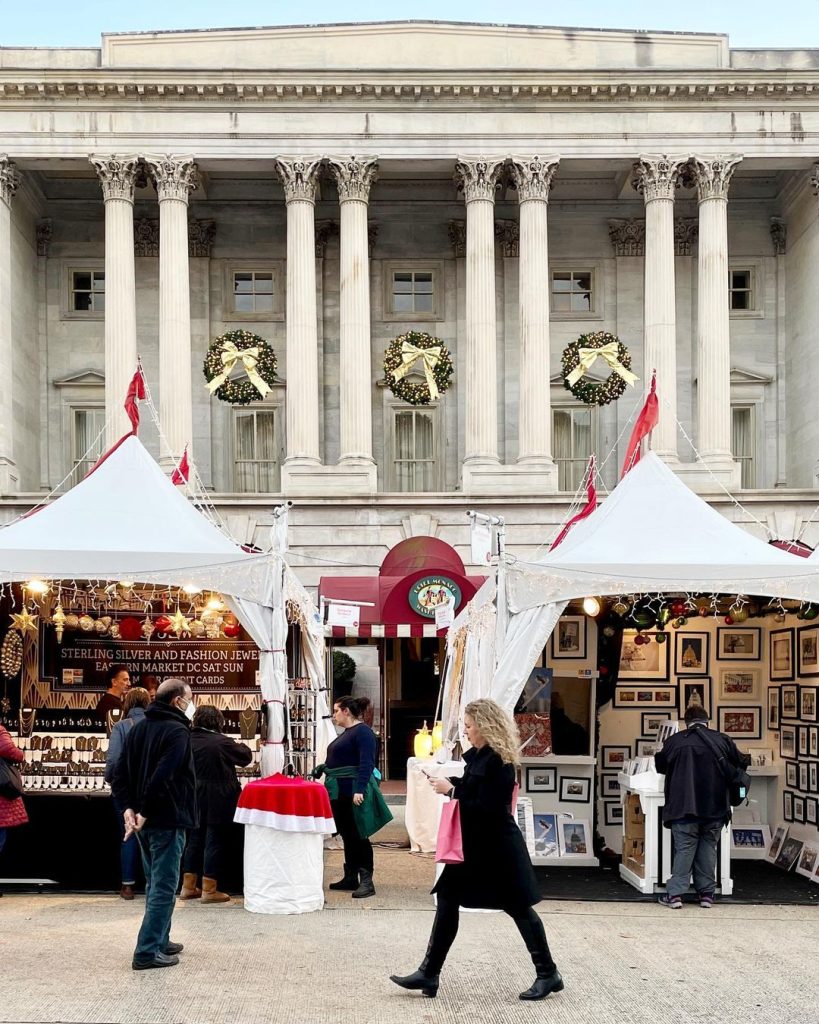 Live music, mulled wine and goods from over 70 local businesses, the 18th annual holiday market is open daily from 12 p.m. to 8 p.m. now through December 23rd, 2022.
---
Thank you to everyone who shared holiday cheer with #igdc!
We appreciate your help to create this valuable guide
We hope you enjoyed our list of places to see in things to do in DC in December.
If you have any recommendations or places that we missed, hit us up in the comments below.
Written by @golightly, @dccitygirl, and @austinkgraff